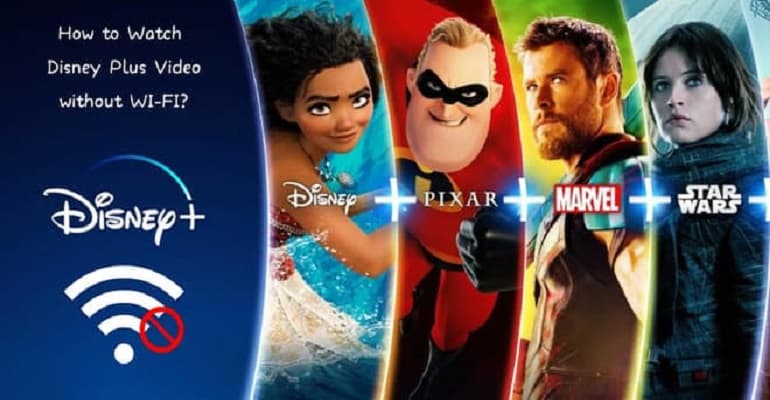 How to Watch Disney+ Video without Wi-Fi?
Disney+ brings together the best stories from Disney, Pixar, Marvel, Star Wars, National Geographic, and Star, whose content varies from timeless classics to new releases. Plus, users can always discover something in need for every moment and every mood. So it is quite easy for subscribers to get addicted to Disney+. But we also know that watching the Disney+ streaming service requires an internet connection. Usually, people prefer to stream Disney+ over a Wi-Fi connection, after all, using a cellular network will have a heavy traffic consumption. So how can we watch our favorite Disney+ movies anytime and anywhere when there is no Wi-Fi connection?
There's nothing to worry about! DispCam, a powerful Disney+ video downloader, can help you download your favorite Disney+ videos in MP4 or MKV format easily so that you can watch them without Wi-Fi.
What is DispCam?
A professional tool that can help you download movies and TV shows from Disney+, and enjoy the content offline at any time.

Learn more about DispCam >>
In order to watch Disney+ videos without Wi-Fi, you must first remove Disney Plus's downloading restrictions using a powerful video downloader. DispCam is such a professional and dependable tool for downloading Disney Plus movies and shows in MP4 or MKV format. It uses a unique downloading core that allows you to download Disney Plus content without having to install the app. Furthermore, DispCam can save multi-language audio tracks and subtitles. Simply enter the name of the video or the URL copied from the web browser, and DispCam will quickly search for the content using the built-in search engine and download videos as your request at high speed. Moreover, the program also supports batch mode to let you download a season of shows with just one click. What's fancier about DispCam is that all the downloaded videos will never be expired.
Guide: Download Disney+ Video to Watch without Wi-Fi with DispCam.
Please make sure you have downloaded and installed the latest released version of DispCam on your computer before learning how to use it to download Disney+ videos and watch them without Wi-Fi.
Step 1. Sign in to Disney+
Start DispCam, type any word into the search bar to activate the log-in window and then enter your Disney Plus account information in that window.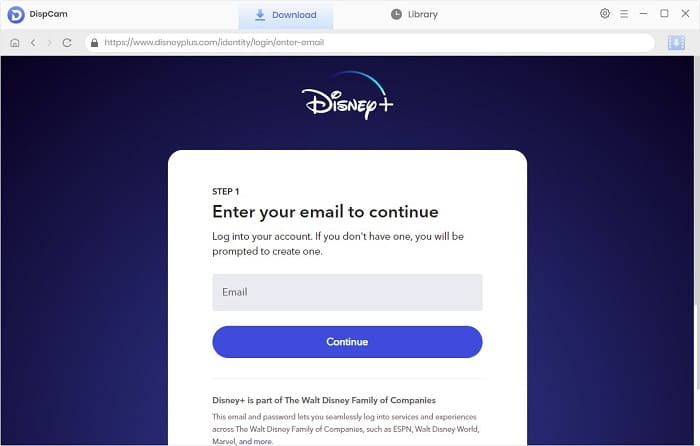 Step 2. Configure the Video Format, Video Quality, and Other Options
To open the settings window, click the "Settings" icon in the top right corner of the screen. You can select the video format, video quality, language of audio tracks and subtitles, and download location here. When you are finished, close the settings window. You can also choose the video codes as H.264 or H.265 by clicking "Advanced" in this page.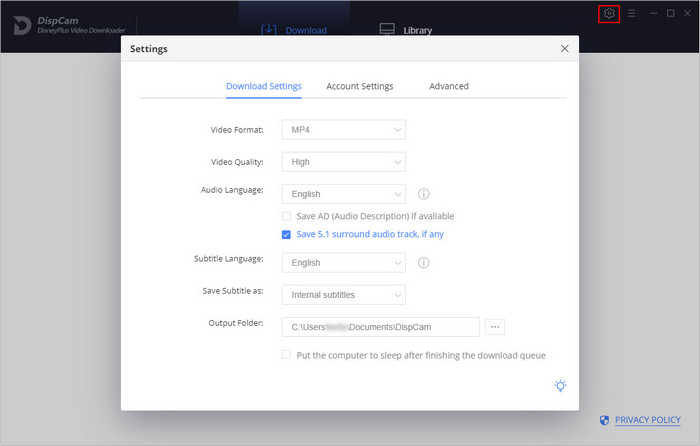 Step 3. Look for Disney Plus Video
DispCam supports 2 searching methods. One is to copy and paste the video link(URL) from the Disney Plus web player into the search bar, then press "Enter" on the keyboard. The other is to key in the video name directly. Then DispCam will quickly search for the wanted video and display the results in seconds.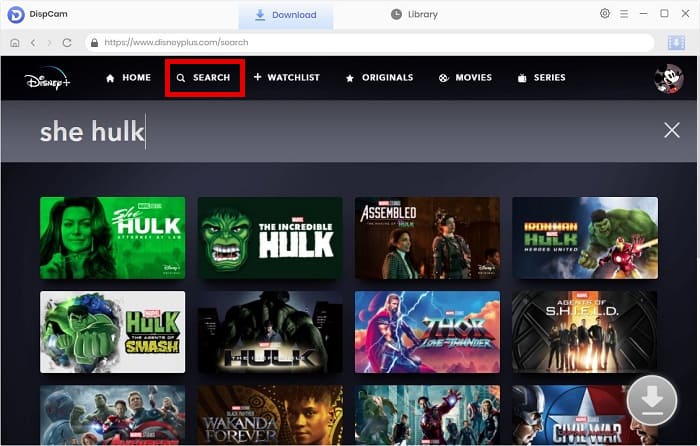 Step 4. Select the Advanced Download Settings
After you've found the video you want, you can now select the video quality, audio tracks, and subtitles. To access the advanced settings window for a movie, click the

icon next to the download icon. For a TV show, click the download icon, select the seasons and titles you want to download, and then click the "Advanced Download" button on the bottom left of the pop-up window to select the advanced settings.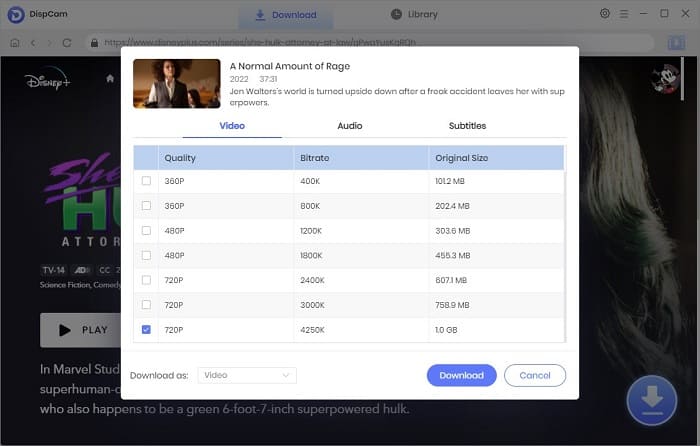 Step 5. Download and Save Disney Plus Video
Everything is ready now; simply click the "Download" button to start downloading the video to your computer. You can add many other videos to the download list at once when you are waiting for this one to be finished.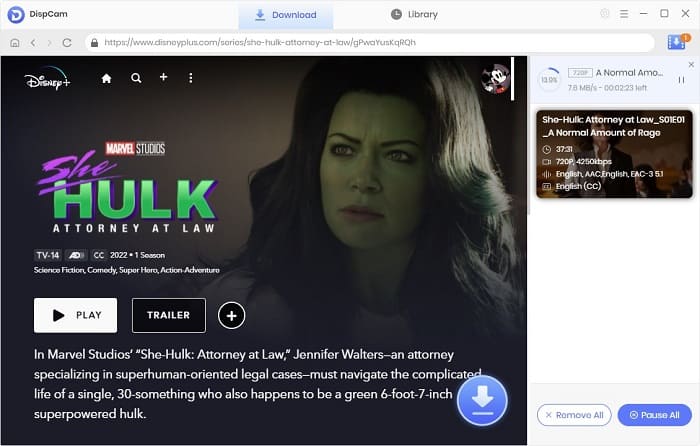 When the videos are downloaded, click the "Library" tab and click the folder icon behind each video to find the downloaded videos in the output folder. Now the videos are stored on your computer and will not disappear unless you delete them manually. And you can transfer them to any device that you want to watch when Wi-Fi is not available. What's more, you can also transfer them to your friends and families for wonderful simultaneous viewing.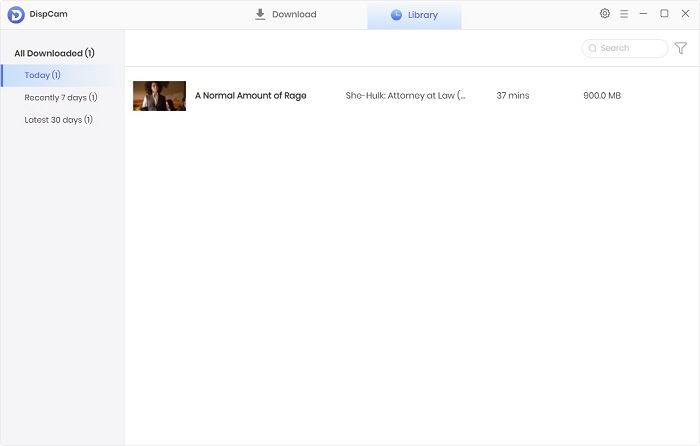 Conclusion
It is sure that you've now got a taste of the magic of DispCam and can't wait to try it out. With this article, all your doubts about DispCam—the most powerful Disney+ video tool on the market, are solved with ease. You no longer have to worry about that your downloaded videos expire, that you are only allowed to download a limited number of videos, or that the video quality is low. With DispCam, you can save all your favorite Disney+ videos in MP4 or MKV format as you like. And you can play it with any player without any restrictions. Not to mention playing Disney+ video without Wi-Fi. Having DispCam installed, you officially own all the videos you download. And you can play the download anytime and anywhere. Why don't you download DispCam and try it out for yourself?
Note: The free trial version of DispCam allows you to download the first five minutes of each video. To download the full video, you may need to subscribe to DispCam to unlock the limitation.
---