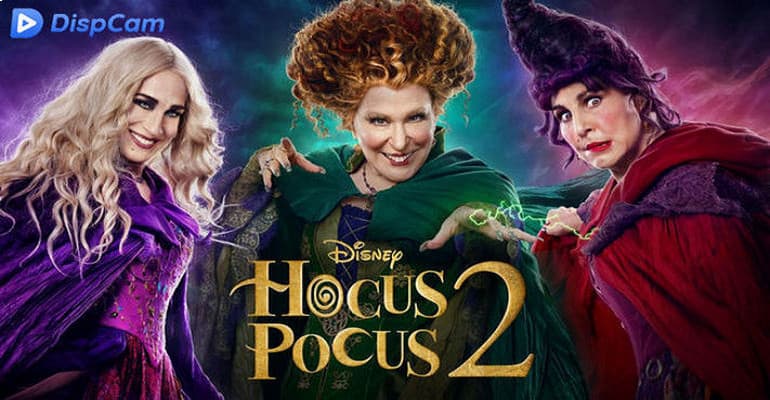 How to Download "Hocus Pocus 2" on PC?
Hocus Pocus 2 is released on September 30 on Disney Plus, which has been 29 years since the original was on show. Therefore, it's fair to say that fans have waited long enough for the highly-anticipated follow-up. Halloween is coming, so you can download and watch it with your family and friends. Disney Plus, like many other streaming services, lets you download content to view whenever and anywhere you prefer without an Internet connection. It's significant to note that downloaded movies are only allowed to play in the Disney+ app. Besides, no Disney+ app is available for PC yet, thus you can only play the video by visiting the Disney+ website through your browser. If you want to watch movies and shows offline on PC, this cannot be done.
In fact, DispCam can satisfy your needs and resolve all the aforementioned issues. Not only can it help you download videos on your computer, but you can also transfer them to any other device and watch them. This is because it can download the video in the highly compatible MP4 format, allowing for viewing on other devices like TVs and VLC. This article will be following demonstrate this potent tool to you and show how to download "Hocus Pocus 2" on a PC.
What's DispCam?
A professional tool that can help you download movies and TV shows from Disney+, and enjoy the content offline at any time.

Learn more about DispCam >>
DispCam is a multifunctional program that can run on Windows 11/10/8/8.1/7 and macOS 10.15 - 13 computers. It does not provide a convoluted user interface, on the contrary, its user interface is concise and simple to use. Videos can be downloaded to your PC in just a few steps: Log In, Choose, Search and Download. Apart from this, it assists you in downloading high-quality videos from Disney Plus, which can up to 720p, retaining multi-language audio tracks and subtitles. As previously indicated, it also enables storing Disney+ videos in the commonly used MP4 or MKV format to circumvent device restrictions, in order that you can move movies to any device that you want.
When you download movies and shows using the official Disney Plus app, the downloaded videos can only be viewed during the subscription period. Once your subscription expires, you no longer have access to any content in Disney Plus, including content you have previously downloaded. Compared with it, DispCam supports downloading all content on Disney Plus and keeps them forever on your device.
Guide: Download and Stream "Hocus Pocus 2" on PC
Step 1. Launch DispCam and Log in Disney+ Account
Download the official DispCam version that works with your computer. Launch it and you will see its main interface. Type "Hocus Pocus 2" or any word in the search bar and hit "Enter". Then, you would be asked to log into your Disney Plus account through a login window.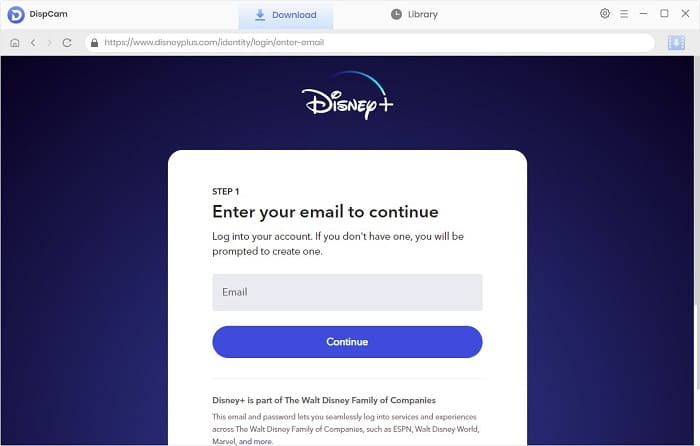 Step 2. Customize the Output Settings
The search results will then be presented, allowing you to choose which movies you want to download. What you need to do next is to choose the output settings. (You can also set this before signing into your Disney account)
Click the "Setting" icon and customize the video format, video quality, audio languages and subtitle languages as well as codec modes. It also offers Internal Subtitles, External Subtitles, and Hardcode Subtitles, 3 types of subtitles to satisfy your requirements.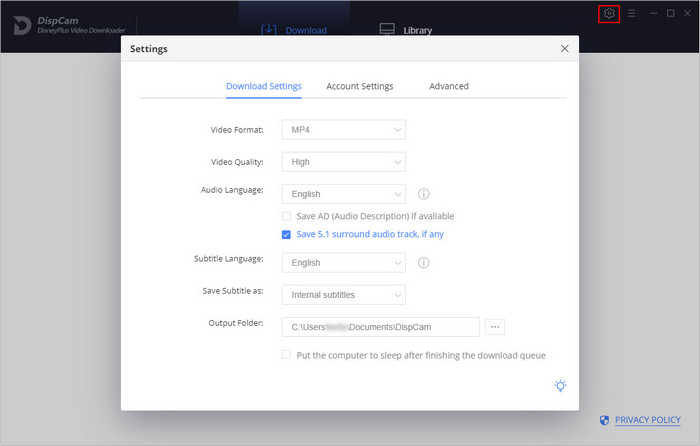 Step 3. Search "Hocus Pocus 2" and Start Downloading
Enter "Hocus Pocus 2" or the link of it if you just input some other words in the first step. The related results will show under the search bar. Find "Hocus Pocus 2" and click the "Download" button located on the right side. Then you can start downloading the movie.
If you have more specific requirements for the movie, you can access the "Advanced Download" to choose according to your preferences, which is located to the right of the "Download" icon. If you want to download a TV series, this button shows up after clicking "Download". What's more, it provides a batch download function that allows you to download full episodes with several clicks.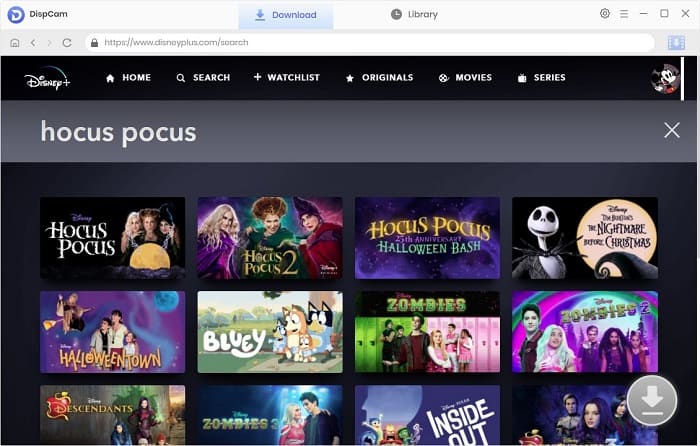 Step 4. Find "Hocus Pocus 2" on the Local Drive
Once the download completes, click the "Library" to check the download history. Find the folder containing the downloaded videos and open it. Now, it's time for you to enjoy "Hocus Pocus 2" offline on your PC. You can also share the movie with your friends who don't have a subscription to Disney Plus.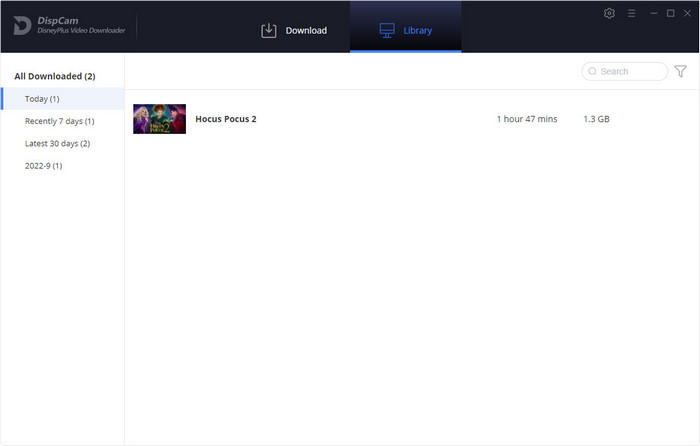 Conclusion
There is no doubt that DispCam is the first choice for Disney Plus users. You no longer have to be concerned about being unable to download or transfer Disney+ videos to computers or other devices. All of these problems are addressed with DispCam, which also offers you the ultimate viewing experience. Why not download DispCam and enjoy it now?
Note: The free trial version of DispCam allows you to download the first five minutes of each video. To download the full video, you may need to subscribe to DispCam to unlock the limitation.
---