Watch Disney Plus 2023 Oscar-Winning Movies and Nominees
The 95th Academy Awards Ceremony came to an end on the evening of the 12th local time in Los Angeles, USA. Many fans around the world witnessed this exciting film festival. The Walt Disney Company also received many nominations for the 95th Oscars. It has picked up 22 nominations, including "Avatar: The Way Of Water" and "The Banshees of Inisherin" for Best Picture. Some Disney+ Originals also picked up some nominations, including "Turning Red" for Best Animated Film and "Le Pupile" for Best Short.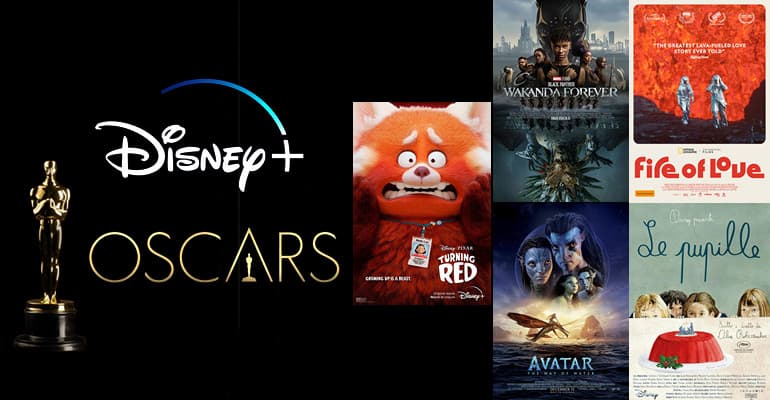 Disney Plus 2023 Oscar-Winning Movies and Nominees:
| # | Movie Name | Producted by | Awards | Nominations |
| --- | --- | --- | --- | --- |
| 1 | The Banshees of Inisherin | Searchlight Pictures | / | 9 |
| 2 | Black Panther: Wakanda Forever | Marvel Studios | Best Costume Design | 4 |
| 3 | Avatar: The Way of Water | 20th Century Studios | Best Visual Effects | 3 |
| 4 | Empire of Light | Searchlight Pictures | / | 1 |
| 5 | Fire of Love | National Geographic Documentary Films | / | 1 |
| 6 | Le Pupille | Disney Branded Television | / | 1 |
| 7 | Turning Red | Pixar Animation Studios | / | 1 |
We've condensed the list down to bring you five of Oscar-Winning Movies and Nominees to watch, which you can scroll through below.
The 5 Disney Plus 2023 Oscar-Winning Movies and Nominees Most Worth Watching
1. Black Panther: Wakanda Forever
Award: Best Costume Design
Nominations: Best Supporting Actress, Best Original Song, Best Visual Effects, Best Makeup and Hairstyling
Runtime: 2hours 41mins
Genre: Action, Adventure, Fantasy
Release Date (Streaming): February 1, 2023
In Black Panther: Wakanda Forever, Queen Ramonda, Shuri, M'Baku, Okoye, and the Dora Milaje, fight to protect their nation from intervening world powers in the wake of King T'Challa's death. The heroes must unite with the aid of War Dog Nakia and Everett Ross to forge a new path for the kingdom of Wakanda as the Wakandans attempt to embrace their next chapter.
---
2. Avatar: The Way of Water
Award: Best Visual Effects
Nominations: Best Picture, Best Production Design, Best Sound
Runtime: 3hours 12mins
Genre: Sci-fi, Adventure, Action, Fantasy
Release Date (Streaming): Not available on Disney Plus now
Avatar: The Way of Water is set 15 years after the events of the first film. It follows the story of the Sully family (Jake Sully, Neytiri, and their five kids). Despite their best efforts to keep their family together, the Sullys are forced to leave Earth and travel to the Pandoran due to a familiar threat reappearing because Earth is dying. The family gets caught up in a struggle for survival there.
---
3. Le Pupille
Nominations: Best Live-Action Short Film
Runtime: 37minutes
Genre: Holiday, Comedy, Short
Release Date (Streaming): December 16, 2022
Le Pupille is a story about innocence, greed, and fantasy. The story, which is set in World War II Italy, centers on a group of young orphan girls who attend a Catholic boarding school and yearn for a carefree childhood free from moral police and dogmatic nuns. The girls are getting ready for the Christmas pageant, where the locals come to ask for prayers on their behalf. They are drawn to a mysterious woman wearing a fur coat and jewels, which starts a series of incidents that disturb the order in the orphanage.
---
4. Fire of Love
Nominations: Best Documentary Feature Film
Runtime: 1hour 33mins
Genre: Documentary, Biography
Release Date (Streaming): November 11, 2022
Fire of Love chronicles the story of two volcanologists, Katia and Maurice Krafft, who were passionate about two things: each other and volcanoes. The adventurous French volcanologist pair traversed the globe for two decades, tracking eruptions and documenting their findings. They died in a volcanic explosion in 1991, leaving a legacy that will forever expand our understanding of the natural world.
---
5. Turning Red
Nominations: Best Animated Film
Runtime: 1hour 40minutes
Genre: Kids & family, Comedy, Fantasy, Animation
Release Date (Streaming): March 11, 2022
Turning Red depicts the seemingly traumatic process of puberty, as well as the acute depiction of how familial baggage continues to haunt generations of its members. Meilin is a helping and self-assured 13-year-old torn between being her mother's dutiful daughter and dealing with the turbulence of puberty. Ming, a slightly pushy mother, is seldom far from her daughter, which is an awful situation for the adolescent. Due to a genetic curse, Meilin transforms into a massive red panda whenever she feels intense emotions.
---
Recommend: A Powerful Tool to Download Disney Plus Movies
The above is our compilation of the five most worth watching Disney+ Oscar movies. If you want to download them to watch offline, try DispCam. It is the best choice when it comes to downloading Disney Plus movies and shows. It's hard to find a video downloader as powerful as DispCam. It enables you to download unlimited Disney Plus videos and movies in high resolution with multiple languages of audio tracks and subtitles. It can also download 5.1 surround audio (if the video provides it) and AAC 2.0 audio. Plus, it provides three types of subtitles for you to choose from, including internal, external, and hardcode subtitles. MP4 and MKV are also two widely used video formats that DispCam allows you to save.
In addition to its general functions, one of the biggest advantages of DispCam is that it can help those who subscribe to Disney+ with an ad-supported plan to download videos to watch offline. Plus, it has the ability to download Disney+ videos with no ads, allowing you to play them anytime. DispCam is user-friendly and it allows you to download a movie in just a few steps and in as little as 20 minutes. It has more features waiting for you to discover, so don't hesitate to download it and try it now.
A professional tool that can help you download movies and TV shows from Disney+, and enjoy the content offline at any time.

Learn more about DispCam >>