Everything You Should Know About Disney Plus Hotstar
How much do you know about Disney Plus Hotstar? Disney Plus Hostar, a well-known and fastest-growing digital platform, is one of the OTT giants in Indian. It offers a broad selection of shows, including coverage of important international sporting events, over 100,000 hours of TV series and movies in 10 languages. In this article, we will provide a comprehensive description of Disney Plus Hotstar for users who are unfamiliar with it.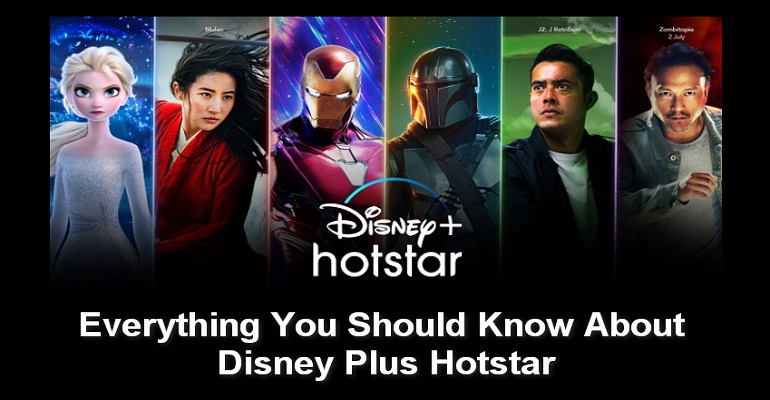 1. What is Disney Plus Hotstar?
Disney+ Hotstar, commonly referred to as Hotstar, is an Indian subscription video on-demand streaming service, which is ruling the OTT world. Disney+ Hotstar can be said to be a cooperation between Disney and Star India Hotstar Streaming Services Service. Following the formal debut of Hotstar by Star India on February 11, 2015, and the subsequent acquisition of Star and Hotstar by The Walt Disney Company in 2019, Hotstar was merged with Disney+, in April 2020 to become "Disney+ Hotstar".
In addition to India, the Disney+ Hotstar service also runs in Indonesia, Malaysia, and Thailand. In each of these countries, it similarly combines locally produced entertainment with a broader selection of Disney+ titles. Along with Disney titles including Marvel, Pixar, National Geographic, and more, Disney Plus Hotstar is also the home to hundreds of other films and TV shows from prestigious production companies like Fox and Showtime. In addition, the Premier League, Formula 1, Wimbledon, and the ICC World Cups are exclusively available online with Disney Plus Hotstar.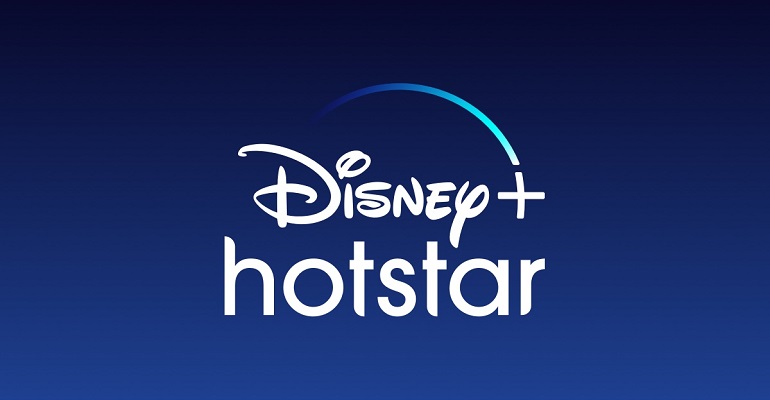 ---
2. What Subscription Plan Does Disney Plus Hotstar Have?
There are three paid plans available on Disney Plus Hotstar, Mobile, Super, and Premium, as well as one free plan. There is no difference in content library for all paid subscriptions, but there are differences in costs, screen support, and video quality.
1. Disney+ Hotstar Mobile
Price: Rs 499/per year; Rs 149/3 months

For those who don't need to share their subscription, the Mobile subscription is best as it allows you to watch on up to 1 device, only on mobile phones (or tablets). All content is available for streaming, such as movies, live sports, TV shows, and specials with advertisements. It supports streaming video up to 720p with stereo sound.
2. Disney+ Hotstar Super
Price: Rs 899 per year

The content you can stream is the same with the Mobile plan, including Disney+ Hotstar original series, Disney+ Premium shows, movies, and more. Although the videos also come with ads, you can watch them on up to 2 devices that aren't limited to mobile devices, like smartphones, laptops, and smart TVs. This plan not only supports Dolby 5.1, but also supports streaming in Full HD (1080p).
3. Disney+ Hotstar Premium
Price: Rs 1499/per year; Rs 299/per month

This is the most expensive subscription plan from Disney+ Hotstar. Depending on your needs, you can subscribe to a monthly or yearly Premium plan. With a Premium subscription, all the content can be stream without being interrupted by the ads (except for live sports). Furthermore, the resolution it supports is up to 4K (2160p) and the audio is Dolby 5.1. Up to 4 devices can be connected simultaneously to Disney + Hotstar Premium.
Note: 4K Ultra HD is only available on the supported devices, including Android TV, Apple TV, LG TV, and Samsung TV. Only a selection of content supports the use of Dolby Vision, 5.1 sound, and Dolby Atmos.
4. Disney+ Hotstar Free Subscription
In India, Disney Plus Hotstar offers a free subscription, however there isn't much to be gained from this. Users are not permitted to view live sports with this subscription. Popular Disney films, TV shows, online series, and other content are also unavailable. Ads are shown on the content that is accessible.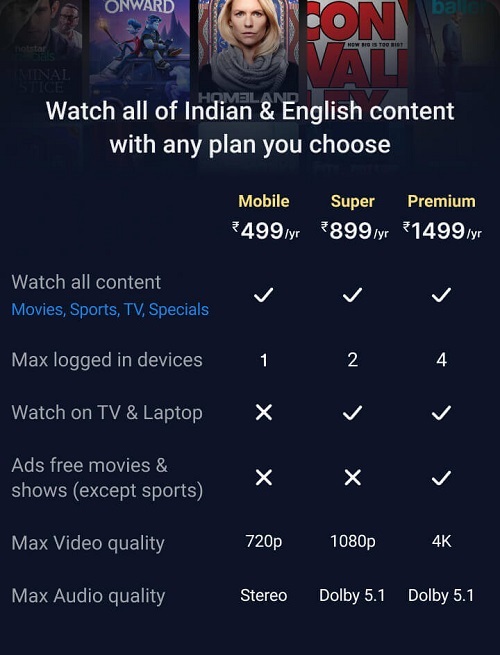 ---
3. What Devices are Supported by Disney Plus Hotstar?
Disney Plus Hotstar can be stream on a variety of devices and web browsers. You can stream Disney Plus Hotsar through the laptop browsers, such as Chrome (version 75+), Safari (version 11+), Microsoft Edge (version 79+), and Firefox. You can also view Hotstar via the mobile and tablets, running Android 5.0 or higher, iOS 10.0 or higher, and mobile web. Additionally, it can be accessed through your living room device, Android TV (OS 7.0 or above), Chromecast [2nd Gen above (Firmware 1.43+)], Apple TV OS 11.0 + (4th Gen onward), and LG TV (2018 models/ web OS 4.0 or above - not available on TV M3).
Note: The above list may not be exhaustive and is subject to change from time to time.
---
4. How to Download Movies and TV Shows from Disney Plus Hotstar?
Disney Plus Hotstar offers an option for its users to download videos and movies to watch offline later. However, this feature is only available on the Disney Plus Hotstar app on the mobile devices, like iOS, Android mobile and tablet devices. This may not be particularly friendly to users who want to use their computers to download videos. Therefore, this article provides an alternative method to guide you on how to download Disney Plus Hotstar videos on PC.
Method 1: Download Disney Plus Hotstar Videos via the Hotsar App
Please download and install the latest Hotstar app from "Apple Store" on your iOS device or from "Google Play Store" on Android device.
Step 1 Launch the app on your device and sign in with your Disney Plus Hotstar account.
Step 2 Search for the video or movie you intend to download. Open the details page by tapping it. A "Download" icon will appear next to the "Watchlist" and "Share" icons, located under the video thumbnail. (If not, it means that this video is not available for download.)
Step 3 If you're an Android user, after clicking the download icon, you will be asked to select the video quality. And then, it will start downloading. If you're an iOS user, after tapping the Download icon, it will begin downloading directly. You can set up the video quality in " Settings" > "Download quality".
Step 4 You will be notified by the app when finished downloading. You may check the videos you have downloaded as well as the status of your downloads by clicking "Downloads" from the three-line menu icon in the top left corner of the home screen.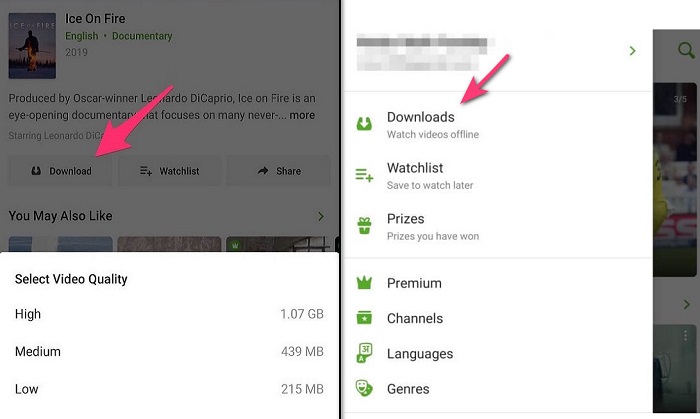 What you need to pay attention to is that all videos are downloaded in an encrypted format, so you can only play the downloaded videos through the Hotstar app instead of moving them to other devices for viewing. Don't fret out. As we mentioned before, we bring out a tool - DispCam to help you download Disney Plus Hotstar videos on PC as well as transfer the downloads easily between devices.
Method 2: Download Disney Plus Hotstar Videos with DispCam
DispCam is the top-rated video downloader in the market which enables you to download Disney Plus Hotstar videos and movies on your computer although there is no official app on the PC. DispCam is available on Windows 11/10/8/8.1/7 and macOS 10.15 - macOS 14, allowing almost all computer users to use this program.
The videos downloaded by DispCam are in MP4/MKV format, two widely used video formats, so that you can move the downloaded videos and movies to any other devices, like VLC, KMPlayer, and more. It bypasses the restriction that the downloads can only be watched through the Disney+ Hotstar app. What's more, all the downloaded videos can be saved on your device forever even if you cancel your subscription. You can get access to the downloads at any time you want.
A professional tool that can help you download movies and TV shows from Disney+, and enjoy the content offline at any time.

Learn more about DispCam >>
Guide: How to Download Disney Plus Hotstar Videos on PC
Please download and install the newest version of DispCam on your computer so that it can function properly during the use.
Step 1 Log in to Disney Plus Hotstar Account
Run DispCam on your computer. If you use this program for the first time, it will pop out a window asking you to choose the download website: disneyplus.com or hotstar.com. Choose "hotstar.com" and click "OK". Then, it will automatically jump to the login window of Hotstar. Input the email and your password to log in to your Disney Plus Hotstar account.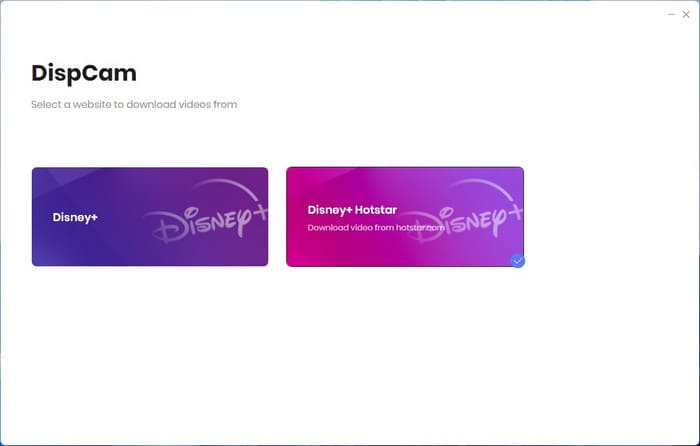 Step 2 Set the Output Settings
Click the "Settings" icon on the upper right of the program to set up your video. You can choose the video quality, video format, the language of audio and subtitles, output path and more. It is available for you to plug in your USB drive as the output location.
In the "Account Setting" tab, you can also change the download website or current users here. If you want to download higher-definition videos with smaller file sizes, you can choose H.264 video codec in the "Advanced" tab.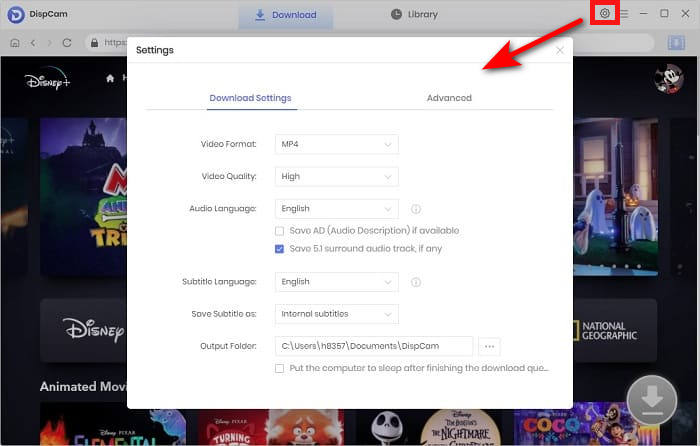 Step 3 Search Disney Plus Hotstar Video
Equipped with the smart engine, DispCam enables you to use the name or URL to find the video that you want to download without installing the Disney Plus Hotstar app. When searching with the name or keyword, DispCam will show other related results for you. When copying the link of the video, DipsCam will directly show the video result.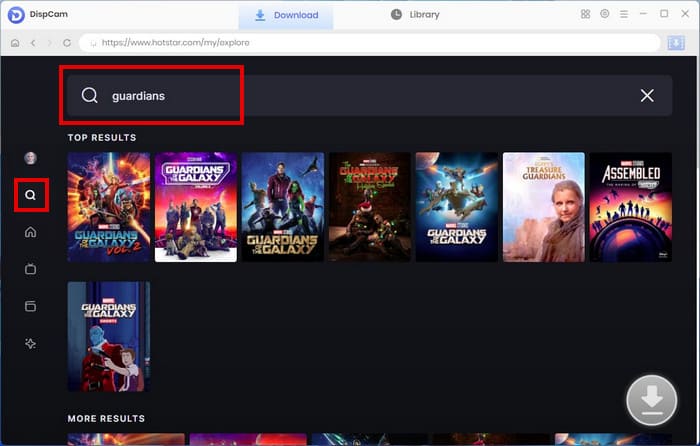 Step 4 Customize the Advanced Download Settings
It features an "Advanced Download" function which allows you to customize the video quality, audio languages, and subtitles languages. Click the "Download" icon first and the "Advanced Download" button will appear at the left bottom of the pop-up window. If you are downloading a movie, you can directly click the icon next to the "Download" icon to open the advanced download window.
It is possible for you to download video, audio, and subtitles separately if needed. Plus, when downloading TV series, you can download full seasons or all one season shows with one click thanks to the batch download function.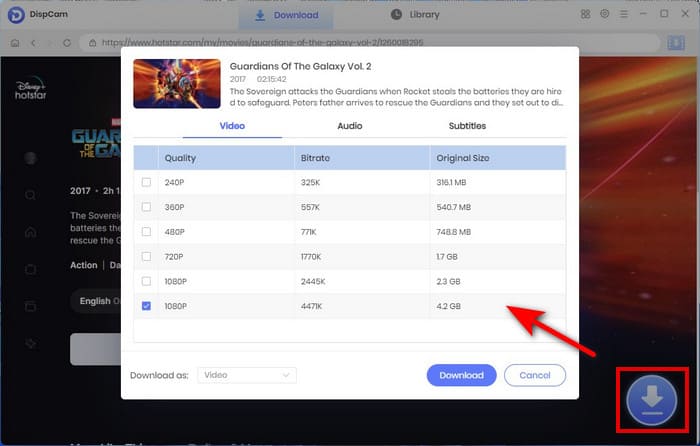 Step 5 Download Disney Plus Hotstar Video
When everything is done, click the "Download" button to start downloading the video. On the right pane of the program, you can see the video you are downloading and its specific information.
Once finished, tap the "Library" to check the download content. You can directly click the thumbnail of the video to play it or find the folder where the video is located and move it to any device you want.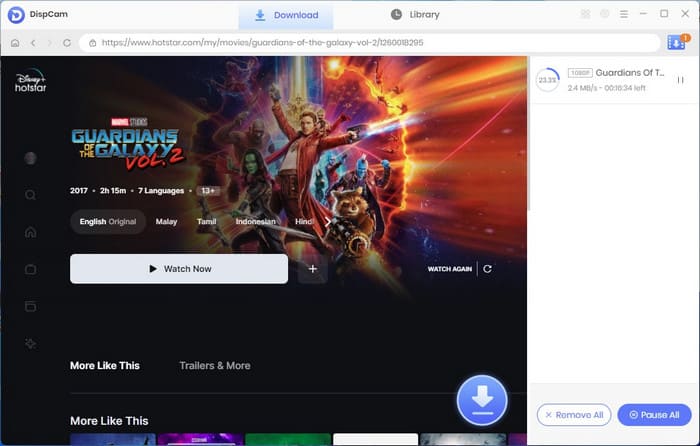 ---
Final Words:
With its exclusive content and access to live sports like Cricket and Football, Disney + Hotstar is one of the most well-known streaming services in the world. You are sure to find your favorite movies and TV shows in its library. A subscription plan (Mobile, Super, or Premium plan) is necessary if you wish to watch any exclusive shows. Choose the subscription plan that works for you and start watching Disney Plus Hotstar videos on a supported device or browser.
If you would like to download Hotstar videos to watch offline, we highly recommend you use DispCam as a download tool to help you save Disney Plus Hotstar shows and movies in MP4/ MKV format on your computer without limits. Besides being able to be saved permanently to your device, the videos downloaded by DispCam can also be moved to other devices freely. Just download and try it now.