The 10 Best Movies to Watch on Disney Plus
Disney+, Disney's online streaming video platform, gives you access to more than 1,200 movies and 16,000+ episodes. Whether you want to relive your childhood, catch up on some theatrical masterpieces, or dig into some of the more mature movies and episodes, you're sure to find the best content for you here. All of these series have been grouped together for you by Disney+ into six brands, including Marvel, Pixar, Star Wars, Disney, National Geographic, and Star. Problem is, there's so much stuff, it's hard to know where to begin. Here are our recommendations for the top 10 movies to watch on Disney+.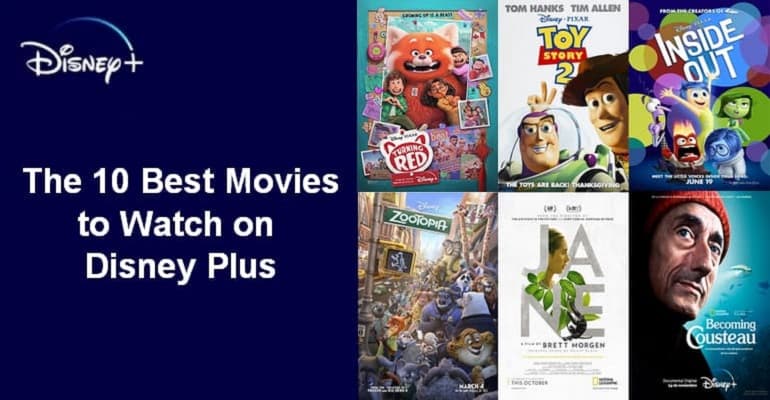 10 Best Movies on Disney Plus
1. Toy Story Season 1,2,3
Season 1 tells the story of Woody, who is often favored by his master, and his status is threatened after Buzz Lightyear's arrival, so he launches a series of struggles against Buzz Lightyear. Season 2 is mainly about Woody wanting to save a toy penguin, that was stolen by a garage sale dealer. So, Buzz Lightyear and other toys form a rescue team to find Woody. Season 3 introduces the toys as they misunderstand Andy and run away in anger. They'd rather be donated to Sunshine House Nursery, only to be caught up in a conspiracy.
---
2. Pinocchio (2022)
The film is a live-action remake of Walt Disney's 1940 typically animated film of the same name. Geppetto, a woodworker, desires Pinocchio, the puppet he just created, could grow up to be a real boy when he observes a falling star. The Blue Fairy grants Geppetto's wish during the night and requests that Jiminy Cricket acts as the wooden boy's conscience. But Pinocchio, who is innocent, is captured by Honest John, who takes him to the sinful Pleasure Island.
---
3. Finding Nemo (2003)
Clown fish Marlin is very protective of his son Nemo, who has a foreshortened fin. Nemo gets grabbed by a diver after swimming too close to the surface to prove himself, forcing horrified Marlin to search for him. Dory, a blue reef fish with a terrible memory, joins Marlin and makes things more difficult as they encounter with jellyfish, sharks, and other ocean perils. In the meantime, Nemo is planning his escape from a dentist's fish tank.
---
4. Inside Out (2015)
Riley, an 11-year-old girl from the Midwest who enjoys hockey, finds her world turned upside down when she and her parents move to San Francisco. Joy, Riley's primary emotion, tries to lead her through this challenging, life-altering experience. But the stress of the move brings sadness to the fore. The only feelings remaining in brain after joy and grief are unintentionally swept away into Riley's deepest thoughts are rage, fear, and disgust.
---
5. Zootopia (2016)
Zootopia, a mammal metropolis, is home to a wide variety of creatures. Judy Hopps finds out firsthand how difficult it is to uphold the law when she joins the police department as the first rabbit. Judy seizes the chance to crack a case because she wants to show herself. She will unavoidably have to collaborate with Nick Wilde, a cunning fox who makes her job even more difficult.
---
6. Hamilton (2020)
Hamilton is a hip-hop musical based on the legendary biography of American founding father Alexander Hamilton. In addition to the plot of the show, the most remarkable thing is its stage music. The music in the play is mainly hip-hop, interspersed with a variety of music genres such as jazz.
---
7. Jane (2017)
The film tells the story of Jane's early explorations and research in Tanzania, with an emphasis on her groundbreaking field work, her relationship with her cameraman and husband Hugo Van Lawick, and the chimpanzees that were the subject of her study.
---
8. Becoming Cousteau(2021)
Becoming Cousteau is an American documentary film which follows the life and career of Jacques Cousteau. For more than 40 years, Jacques-Yves Cousteau and his underwater investigations came to represent a passion for science and the natural world. He taught the entire world how to protect the environment by raising alarms more than 50 years ago about the vulnerability of our planet and the rising of the oceans.
---
9. Frozen (2013)
Fearless optimist Anna teams up with rugged mountain man Kristoff and his loyal reindeer Sven in an epic journey to find Anna's sister Elsa, whose icy powers have trapped the kingdom of Arendelle in eternal winter. Encountering Everest-like conditions, mystical trolls, and a hilarious snowman named Olaf, will the trio find Elsa in time to save Arendelle?
---
10. Turning Red (2022)
This film focuses on Mei Lee, a confident, dorky 13-year-old torn between staying her mother's dutiful daughter and the chaos of adolescence. Her protective, if not slightly overbearing mother, Ming, is never far from her daughter-an unfortunate reality for the teenager. And as if changes to her interests, relationships, and body weren't enough, whenever she gets too excited, she suddenly turns into a giant red panda.
---
What's DispCam?
A professional tool that can help you download movies and TV shows from Disney+, and enjoy the content offline at any time.

Learn more about DispCam >>
DispCam is a practical and professional tool that can assist you in downloading high quality video and retaining audio tracks and subtitles in different languages. It is compatible with Windows 11/10/8/8.1/7 and Mac systems. All downloaded content will be saved in MP4 or MKV format so that you can transfer the downloaded video to other devices and play it. Depending on the features and capabilities of the device you want to play the video on, you can select the appropriate format and quality. Furthermore, thanks to its function for batch downloads, with just one click, you may download every episode of a TV show. In a nutshell, you can use DispCam to download as many Disney Plus movies and TV series as you like to watch offline on any device.
Note: The free trial version of DispCam allows you to download the first five minutes of each video. To download the full video, you may need to subscribe to DispCam to unlock the limitation.
---
Conclusion
The vast majority of these movies are undoubtedly Disney classics of the past, especially those worthy of reminiscing about in animated movies. It is not overstated to claim that Disney animation had a significant impact on culture around the world, shaping one iconic animation style after another. Disney is sometimes referred to as people's childhood because so many people adore Disney movies. People may choose to download movies and watch with their family, children or friends. However, you are only allowed to download and watch the videos on mobile devices. This is where DispCam comes into play, which can download Disney Plus movies and TV shows to your Windows or Mac computer and view them offline on any device.
In addition to movies recommended above, you can view other genres of movies that you prefer on Disney+. If you want to watch some old videos but find that it is standard (SD) definition and loses most of its details, then you can try a Video Enhancer AI to improve the resolution of these old videos. By applying the AI technology, this Video Enhancer AI can help you upscale your old videos with low resolution to higher resolution, from SD to HD, HD to 4K, or 8K.
A powerful video enhancer that can improve the video quality from SD to HD, HD to 4K, or 8K.

Learn more about Video Enhancer AI >>