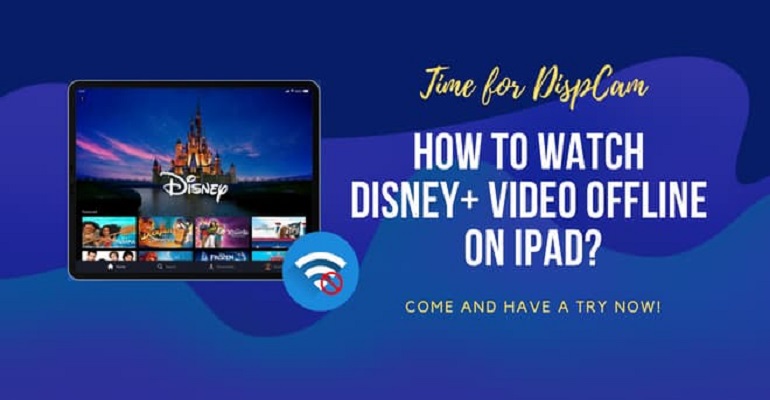 How to Watch Disney Plus Video Offline on iPad?
It's convenient that you can download Disney+ videos on iPad and watch them offline, but you still need to renew the downloads from time to time, which is troublesome. However, if you have DispCam, it will authorize you to download Disney+ videos without any limits and save them on your devices forever without the need to renew them constantly. Then you will be able to watch Disney+ videos offline on any device, not to mention your iPad.
While we stream many Disney+ videos online, there are also many situations where we want to be able to access Disney+ content offline such as when your internet connection is near nonexistent during your commute, when you're traveling, or when you want to watch stuff on the go without hitting your data cap. In order to accomplish this, Disney+ offers the function to download episodes and movies from the service. Apple iPads and iPhones, Android devices, and Chromebooks all support its downloading feature. It is more likely that most of you will play the downloads on an iPad due to its portability and a larger screen than an iPhone. So you might be wondering why we bother to use DispCam to download Disney+ videos for playback. Let me tell you why.
It is true that you can watch the downloads in the Disney+ app with your iPad. However, there are some annoying things you need to know about Disney+. All videos are only accessible while you are a paid subscriber and they are still available on Disney+. And your device is required to connect to the Disney+ service at least once every 30 days. So if you're planning to leave your country for another where you won't be able to get access to the service regularly, please make sure you boot up your iPad and download your data before you depart. If some videos might not be available in your destination country as Disney content varies by country, you may need a VPN that works with Disney+ to pretend you're still in your country in order to renew your downloaded content. And you may know that VPN is not stable usually. So it's not a good solution. While DispCam is a totally different story. This mirical video tool will help you avoid all the above troubles. Let's drive into this magic and see how much it can benefit you.
What's DispCam?
A professional tool that can help you download movies and TV shows from Disney+, and enjoy the content offline at any time.

Learn more about DispCam >>
DispCam is a comprehensive video downloading tool dedicated to downloading movies and TV shows from Disney Plus with high resolution (up to 720p). You can search and download the wanted title by its name or URL copied from Disney+ web player, or a whole season TV shows in batch mode. DispCam can also let you download and save Disney Plus videos in MP4 or MKV format and preserve multilingual audio tracks and subtitles, and get the videos downloaded at a fast speed.
The program also supports 2 kinds of video codecs—H.265 and H.264. And the downloading process is also very simple. You can get started very quickly as guided by our detailed instructions. Once the videos are downloaded, you can watch them offline on a computer with a media player like VLC or WMP. All the related information like shooting time will be well-saved for better management even if you have downloaded a massive amount of Disney+ videos. And All the videos downloaded by DispCam will never expire!
Guide: Watch Disney Plus Video on iPad with DispCam
Now we will show you how to use DispCam to download videos from Disney Plus to the computer first and then transfer them to your iPad for offline viewing. Please download and install the latest version of DispCam on your computer and follow the below steps.
Step 1. Sign in with Your Disney+ Account
After launching DispCam, type any word in the search box and hit the "Enter" button on your keyboard. A "Sign-in" window will pop up, where you need to enter your Disney Plus account to access the service. Don't worry, your account is only used to access the service and download videos from Disney Plus. You can log out of your account after downloading.
Warm note: make sure you log in with a Disney+ account and the profile is not a Kid Profile.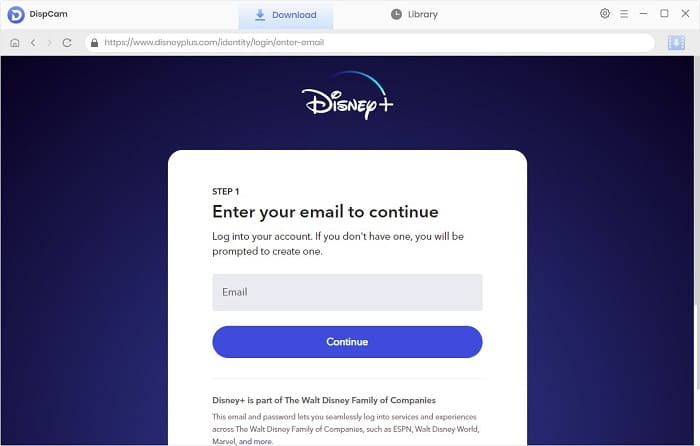 Step 2. Choose the Output Format, Video Quality, and More
Click the "Settings" icon in the top right corner of the screen. In the settings window, you are allowed to set the video format, video quality, the language of audio and subtitles, and select the output path. You can also set the video codecs, check if you need a speed-up, and proxy.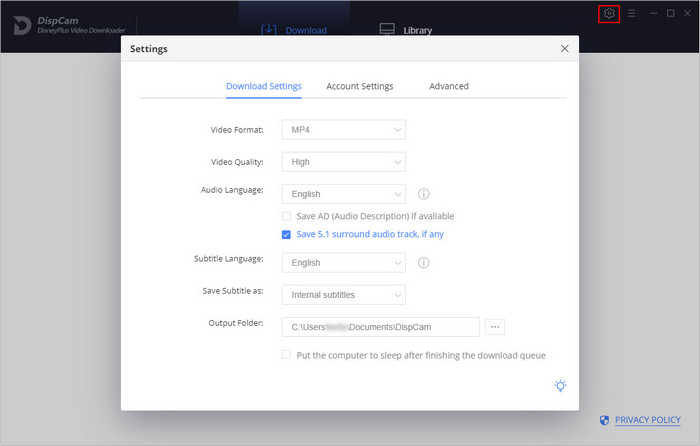 Step 3. Search for the Wanted Movie or TV Show
Now you officially get the ticket to search and download any Disney+ content. The only thing you need to do is to enter the name or URL of the video that you want to download, DispCam will find the related videos or a specific video as you require.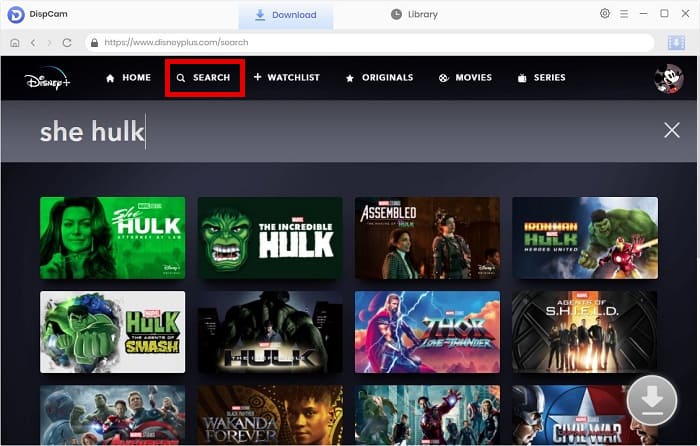 Step 4. Customize the Video Quality, Audios Tracks, and Subtitles
If what you are about to download is a movie, there is an

icon next to the "Download" icon, click this icon and you are able to select the video quality with different file sizes, and choose how many audio tracks and subtitles in different languages.
If you want to download a TV show, click the "Download" icon and select the season and title that you want to download from the pop-up window, then click the "Advanced Download" button and customize the advanced settings as what you do with a movie.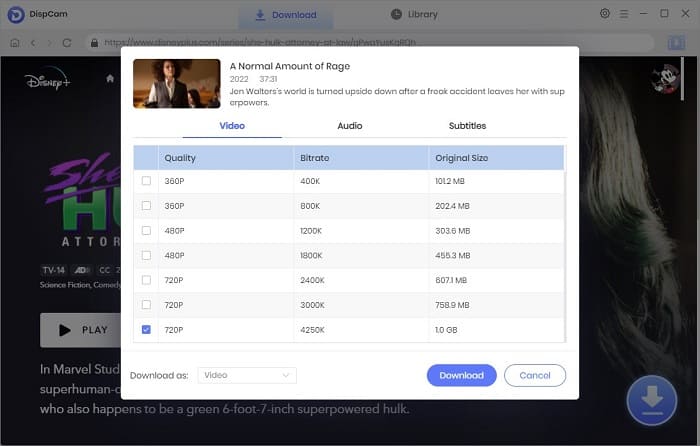 Step 5. Download Movie or TV Show to Your Computer
Click the "Download" button, DispCam will start downloading the videos you have selected. You can see the download process on the right side of the program. Once they are downloaded successfully, a little window will remind you that the download is done.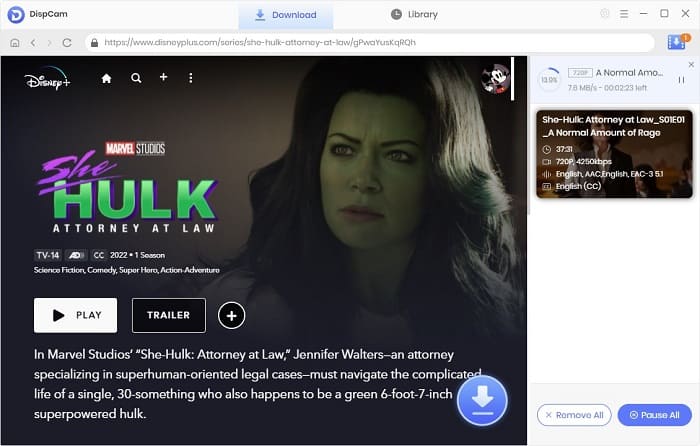 Step 6. Transfer the Downloads to Your iPad for Playback
Once the videos are downloaded, click the Library button, you can find all downloaded videos here. And you can locate the local files by clicking the "Folder" icon. What you need to do next is to connect your iPad with your computer, then copy and paste the video files to your iPad. Congratuation, you are able to play the downloads offline on your iPad now!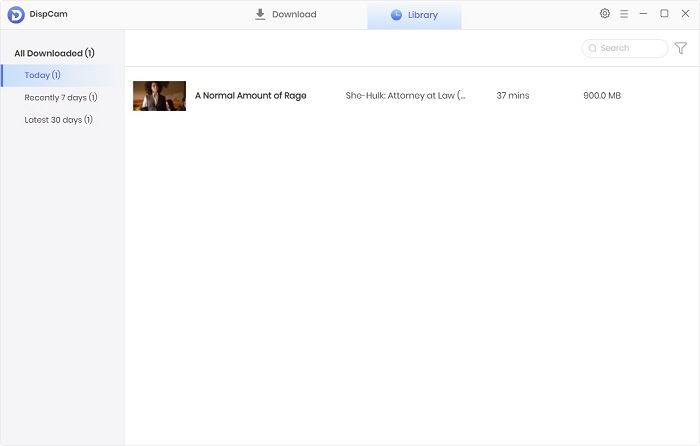 Conclusion
Actually, with DispCam, you have the downloads saved on both your computer and your iPad. Since they are in MP4 or MKV format, you can transfer them to any device for playback, let alone watch the downloads offline on your iPad. Anyway, you are not restricted by the tricky rules of Disney+ as you get the help of DispCam. No matter which country you will be and what device you will be using, DispCam will make it possible to download any video for playback without limits.
Note: The free trial version of DispCam allows you to download the first five minutes of each video. To download the full video, you may need to subscribe to DispCam to unlock the limitation.
---
Related Articles