10 Best Kids Films on Disney Plus
With its plethora of kid-friendly content, Disney Plus has become the streaming service of choice for many families. Movies on Disney Plus are also great for everyone in your family, with each show full of childhood memories for grown-ups. Don't worry about not knowing where to start when faced with huge content, this article helps you sort out 10 best kids movies on Disney Plus.
When introducing the best kids movies on Disney Plus, this article also lists each movie's content rating. If you want to let your children watch kids movies on Disney Plus, this can help you know if the movie is right for your kids to watch. Not only that, Disney Plus develops parental controls to limit what your child can watch. Just read on learn about what is content rating and the 10 best kids movies on Disney Plus.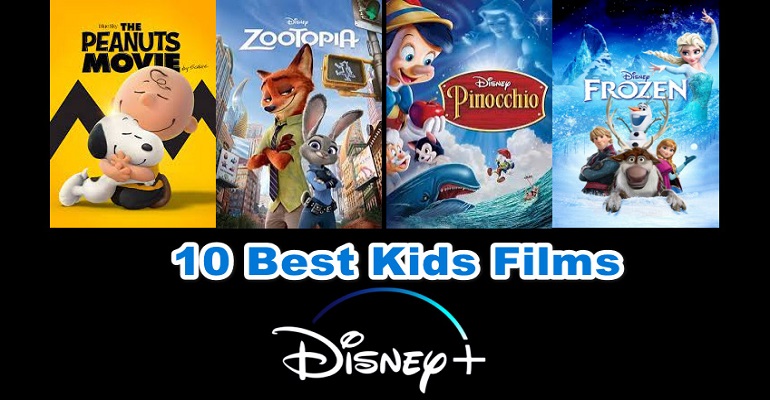 Part 1: What is Disney Plus Content Rating?
All Disney+ content has a maturity rating that is set by Disney+ or in accordance with local regulations. Disney Plus divides movies into five option ratings: G, PG, PG-13, R, and Unrated.
| Ratings | Description |
| --- | --- |
| G (General Audiences) | All ages are permitted. Nothing would be offensive to parents if children watched it. |
| PG (Parental Guidance Suggested) | Some content might not be appropriate for kids. It is advised that parents provide "parental guidance." There may be some content that parents may find inappropriate for young children. |
| PG-13( Parents Strongly Cautioned) | Some content might not be suitable for children under 13. Parents are advised to be cautious because some content may be unsuitable for pre-teenagers. |
| R (Restricted) | Persons under the age of 17 must be accompanied by a parent or adult guardian. Some adult material is present. Before taking their young children with them, parents are strongly advised to research this film. |
| Unrated | Unrated content might exist in some markets. Junior Mode* won't include any unrated material. The content ratings limitations of the profile being used must be set to the highest rating (TV-MA: This show is expressly intended for adult audiences and may not be appropriate for children under 17) in order to access unrated content. |
*Junior Mode: It is also known as Kids Profile, which features an easy-to-use Disney+ interface. Content Ratings for Junior Mode cannot be changed because it is already structured to include content suited for all ages. There may be some changes in the availability of particular titles while streaming from a Kid's profile in different countries/regions due to variances in local ratings and cultural sensitivity.
Disney Plus account can have up to seven separate profiles. You can choose the content ratings for each Disney Plus profile, as well as the name and avatar. After setting up, content rated higher than the profile's content rating will not be displayed when browsing or searching Disney+.
Tips:
Disney+ has a number of parental-control options for parents and guardians who wish to ensure that their children can't access such adult-oriented content, such as the ability to create a Kid's Profile that can assist your children watch content that is appropriate for their age.
Step 1 Open your account and select "Add Profile".
Step 2 Choose a character icon and set a name for the profile. Switch "Kids Profile" to "On," then click "Save."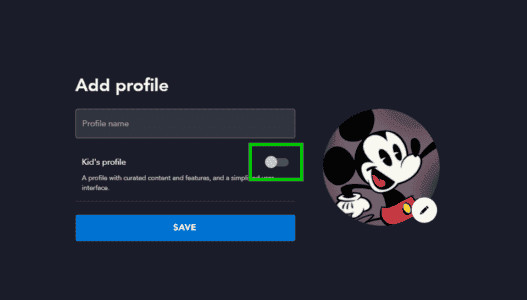 Part 2: 10 Best Kids Films on Disney Plus
1. The Peanuts Movie (2015)
Rating: G
Runtime: 1h 29min
Release Date(Streaming): March 8, 2016
Genre: Kids & family, Comedy, Adventure, Animation
Charlie Brown has a crush on the Little Red-Haired Girl when she moves into his neighborhood. Charlie Brown now tries to win over the Little Red-Haired Girl by impressing her, but he just can't seem to get anything right. In the meantime, Snoopy, his closest friend, sets out on a fantastical epic adventure. The beagle, a flying ace in World War I, battles with the Red Baron while also vying for the affections of Fifi, a stunning poodle.
---
2. Cinderella (1950)
Rating: G
Runtime: 1h 14min
Release Date(Streaming): October 4, 2005
Genre: Kids & family, Fantasy, Animation
A royal descendent turned scullion for her evil stepmother and stepsisters is Cinderella. When word of a royal ball spreads, Cinderella's nefarious heirs forbid her from going. Fortunately, a cute Fairy Godmother shows up just in time to give the dejected Cinderella royal clothes and turn her pet companions into members of her royal court. Before the spell expires at midnight, Cinderella has one evening to charm the charming Prince Charming. but when the magic wears off at midnight, she must deal with the fury of her outraged stepmother and sisters.
---
3. Zootopia (2016)
Rating: PG
Runtime: 1h 48m
Release Date(Streaming): June 7, 2016
Genre: Kids & family, Comedy, Adventure, Animation
The city of Zootopia is a mammal metropolis where numerous animals live and prosper, from the biggest elephant to the smallest shrew. Judy Hopps finds out firsthand how difficult it is to uphold the law when she joins the police department as the first rabbit. When reports of missing animals spread throughout Zootopia, Judy is charged with solving a crime that has much more complicated origins than she had anticipated. Judy seizes the chance to solve this enigmatically complex case because she is determined to prove herself. She will unavoidably have to collaborate with Nick Wilde, a cunning fox who makes her job even more difficult.
---
4. Sleeping Beauty (1959)
Rating: G
Runtime: 1h 15min
Release Date(Streaming): September 24, 2019
Genre: Kids & family, Fantasy, Animation
The envious sorceress Maleficent curses Princess Aurora to pass away on her sixteenth birthday. The three guardian fairies that watch over Aurora prevent her from falling asleep, and the only thing that can awaken her is a kiss from her fiancé, Prince Phillip. Phillip is taken hostage and imprisoned by Maleficent in order to stop him from saving Aurora. The only remaining chance for Phillip to be set free and awaken Aurora is through the good fairies.
---
5. Frozen (2013)
Rating: PG
Runtime: 1h 42min
Release Date(Streaming): March 18, 2014
Genre: Kids & family, Musical, Comedy, Adventure, Fantasy, Animation
Fearless Anna teams up with mountaineer Kristoff and his reindeer sidekick to find her sister, the Snow Queen Elsa, and break her ice spell when their realm is forced to live in everlasting winter. Anna and Kristoff valiantly forge ahead in a race to save their kingdom from winter's chilly grip despite the fact that their epic adventure takes them through encounters with mystical trolls, a comical snowman, severe circumstances, and magic.
---
6. Inside Out (2015)
Rating: PG
Runtime: 1h 35min
Release Date(Streaming): November 3, 2015
Genre: Kids & family, Comedy, Fantasy, Animation
Riley, an 11-year-old girl from the Midwest, finds her world turned upside down when she and her parents move to San Francisco. Riley is guided by her emotions, which include Joy, Fear, Anger, Disgust, and Sadness, as do all of us. Riley's mind's command center, Headquarters, is where Riley's emotions reside, where they provide her with guidance as she goes about her daily business. Unrest breaks out in Headquarters as Riley and her emotions try to adapt to a new life in San Francisco. Riley's primary and most significant emotion, Joy, tries to keep things upbeat, but the emotions disagree on the best way to get around a new city, home, and school.
---
7. Encanto (2021)
Rating: PG
Runtime: 1h 42min
Release Date(Streaming): December 24, 2021
Genre: Kids & family, Musical, Comedy, Fantasy, Animation
The Madrigals are a remarkable family who reside in the Encanto, a charming location hidden in the Colombian mountains. Every member of the family, with the exception of Mirabel, has been given a special gift by the Encanto's magic. When she learns that the magic protecting the Encanto is suddenly in jeopardy, she might soon be the Madrigals' last hope.
---
8. Beauty and the Beast (1991)
Rating: G
Runtime: 1h 24min
Release Date(Streaming): August 6, 2002
Genre: Kids & family, Fantasy, Animation
A vain young prince and the castle's attendants are enchanted by a wicked sorceress, who transforms prince into the horrible Beast until he learn how to love and be loved in return. After the Beast locks up her father Maurice, the brave, independent village girl Belle enters his castle. Before the final petal from an Enchanted Rose falls, the Beast must learn to love Belle and win her love in return in order to once again become a prince. If he does not, he will always be a Beast.
---
9. Pinocchio (1940)
Rating: G
Runtime: 1h 28min
Release Date(Streaming): December 3, 2002
Genre: Kids & family, Fantasy, Animation
Geppetto, a woodworker, desires Pinocchio, the puppet he just created, could grow up to be a real boy when he observes a falling star. A blue fairy awakens the puppet in the middle of the night and tells him he can become a real boy if he shows himself to be "brave, truthful, and unselfish." Jiminy Cricket, who acts as Pinocchio's conscience, is given the task by the fairy of guiding Pinocchio in matters of right and wrong.
---
10. Ice Age (2002)
Rating: PG
Runtime: 1h 21min
Release Date(Streaming): February 8, 2005
Genre: Kids & family, Comedy, Adventure, Animation
It was based at the start of the Ice Age in prehistoric times. The gorgeous creatures of the world, along with a few little, slothful ones, start migrating south to avoid a truly nasty frostbite. Three main characters—Manny, a no-nonsense woolly mammoth; Sid, a chatty ground sloth; and Diego, a sardonic saber-toothed cat—who stumble upon a human infant and band together to bring it back to its tribe—make up the majority of the movie. In addition, Scrat, a "saber-toothed squirrel" that is always looking for a place in the ground to bury his acorn, is briefly followed in the movie.
---
Powerful Disney Plus Video Downloader — DispCam
DispCam is a professional and reliable video downloader that can assist you in downloading Disney Plus videos and movies for offline viewing without limits. It works on Windows 11/10/8/8.1/7 and macOS 10.15 - 13 computers. It is available for you to directly download shows without installing the Disney Plus app separately. One of the biggest reason why using DispCam is that it allows you to download videos in MP4 or MKV format, bypassing the restriction that videos can only be viewed on the device it was downloaded on. It greatly frees up storage on your mobile device and makes it possible to transfer the downloaded videos to other devices. In addition, all videos downloaded through DispCam can be stored permanently on your device, so even if your subscription expires, you can watch it anytime, anywhere.
Note: The free trial version of DispCam allows you to download the first five minutes of each video. To download the full video, you may need to subscribe to DispCam to unlock the limitation.
---