10 Best Horror Movies on Disney Plus
Looking to binge-watch the best horror movies on Disney Plus in your free time? Actually, Disney Plus not only has lots of blockbusters and classic cartoons for you and your kids, but also sad movies, action movies, and even a few horror and thriller movies. Here we list the 10 best horror movies to watch on Disney Plus. Keep reading and find one to enjoy.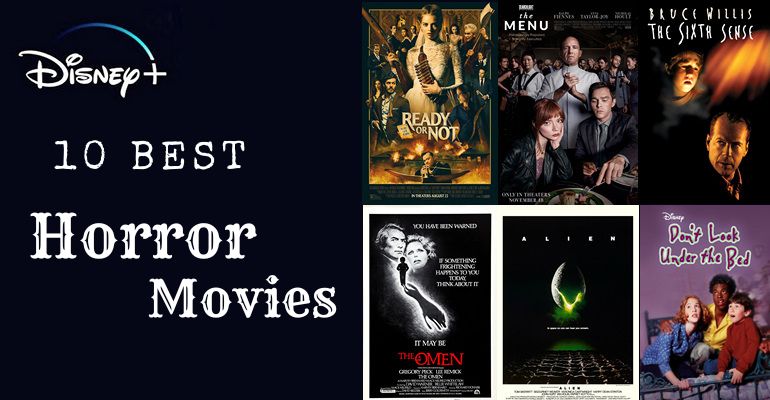 ---
Part 1: 10 Best Horror Movies on Disney Plus
1. Alien (1979)
The crew of the commercial spaceship Nostromo is returning to Earth when they hear a distress call from a far-off moon. The crew is under obligation to investigate, so they follow a bumpy landing to explore the area on the moon. The signal from a derelict alien ship is determined to be a warning rather than a distress call at the same time that they come across an unidentified creature.
---
2. The Sixth Sense(1999)
The American psychological thriller film tells the story of Cole Sear, a troubled and lonely boy who has the ability to see and communicate with the dead, and the child psychologist Malcolm Crowe who tries to help him.
---
3. The Fly(1986)
Seth Brundle, a scientist, transforms the world with his teleportation technology and then decides to put it to the test himself. He is unaware that a housefly intrudes during the process, which results in the merging of man and insect. Brundle appears to have successfully completed a teleportation, but the fly's cells start to take over his body. Brundle's girlfriend sees with horror as the man she once loved deteriorates into a monster as he begins to resemble a fly.
---
4. The Omen (1976)
The film tells the story of American diplomat Robert Thorne, his wife Kathy and their adopted child Damien. Their biological child died shortly after birth, and his father adopted the child Damien without his wife's knowledge. After moving to London, strange occurrences and the ominous prophecies of a priest cause him to think that the child he adopts is the embodiment of evil.
---
5. The Menu(2022)
Tyler Ledford, a food enthusiast, and Margot Mills, his date, travel to a coastal island to dine at the upscale restaurant Hawthorn, where the reclusive, internationally renowned Chef Julian Slowik has created a sumptuous tasting menu for a few select special guests. At each of the guest tables, as secrets are revealed and unexpected courses are served, the evening progresses with growing tension. Slowik's motivation starts to unsettle the diners as wild and violent events take place and it becomes more and more clear that his elaborate menu is meant to set the stage for a shocking conclusion.
---
6. Barbarian(2022)
Tess Marshall, a young woman in town for a job interview, arrives at her Airbnb rental late at night to discover that the home has been accidentally double-booked and a strange man is already residing there. She decides to stay the night, but she quickly realizes that there is much more to be afraid of in the house than the other inhabitant.
---
7. 28 Weeks Later(2007)
The rage virus has nearly wiped out the population of the British Isles six months after the initial epidemic. The American Army has started reconstruction and put the quarantined city back in order. However, following the initial influx of displaced people returning home, an unknowing carrier of the highly contagious pathogen enters the city and unintentionally reignites the deadly infection.
---
8. Ready or Not(2019)
It centers on Grace, a newlywed who, as part of a wedding night ritual, is hunted by her spouse's affluent, Satan-worshiping family. She is now forced to hide from dusk until dawn as her new in-laws use crossbows, guns, and other weapons to hunt her. She hides, and they have until dawn to kill her or else terrible things will happen to the family. Grace fights to survive with wit and tenacity.
---
9. Fresh(2022)
Noa meets the attractive Steve at a grocery store and, after becoming frustrated with dating apps, decides to take a chance and give him her phone number. Noa is smitten with Steve after their first date and accepts his invitation to a special weekend getaway. However, she only to discover that her new love had been concealing some odd appetites.
---
10. Don't Look Under the Bed(1999)
An intelligent and composed young girl named Frances Bacon McCausland is beginning high school early. There have been some strange occurrences in her town of Middleberg. She accepts an imaginary friend Larry Houdini's assistance to defeat a boogeyman who is framing her for community pranks
---
Part 2: A Disney Plus Video Downloader - DispCam
If you want to download the above films for offline viewing, we highly recommend you use this versatile Disney Plus video downloader - DispCam. It is designed for downloading any movie and show from Disney Plus to watch offline on any device. It passes by the restriction of the devices, letting you download Disney Plus videos in compatible video format as MP4 or MKV files. In addition, the videos downloaded by DispCam can be saved on your device forever, which will never expire unless you delete them manually. It has more features waiting for you to discover, so download it now and try it out.
A professional tool that can help you download movies and TV shows from Disney+, and enjoy the content offline at any time.

Learn more about DispCam >>