Best Documentaries You Can't Miss on Disney Plus
Disney Plus, as one of the most well-known streaming services in the world, has an enormous video library. It has something for everyone, from superhero blockbusters to classic animation films. But did you know that Disney Plus also offers a wide selection of documentaries? While you might not think of Disney+ as your first choice for documentaries, it has more than you might imagine.
Documentaries on Disney Plus span a wide range of subjects, including music, sports, and entertainment as well as history and nature. We've compiled a list of the best documentaries on Disney Plus that give you a window into the real world through their portraits of diverse cultures, shocking stories, and extraordinary human achievement.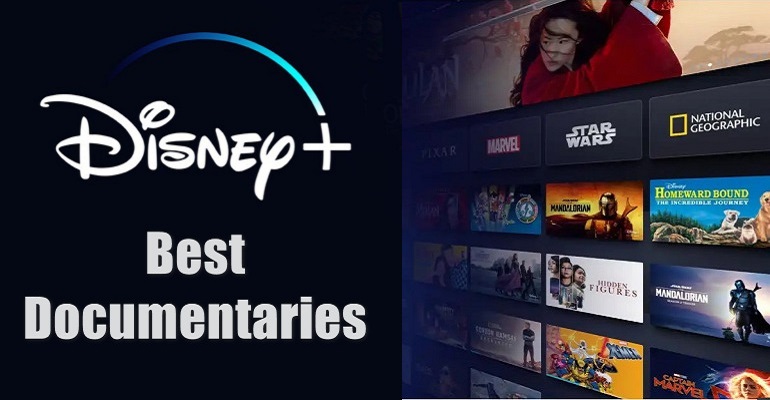 ---
Part 1: 10 Best Documentaries on Disney Plus
1. Free Solo (2018)
Runtime:  1h 40m
Genre: Adventure, Sport, Documentary
Directors: Jimmy Chin, Elizabeth Chai Vasarhelyi
Stars: Alex Honnold, Tommy Caldwell, Jimmy Chin
Free Solo, a National Geographic documentary film, is a stunning, personal, and unflinching portrait of free soloist climber Alex Honnold as he gets ready to fulfil a lifelong dream: climbing the face of the most famous rock in the world, the 3,000-foot El Capitan in Yosemite National Park, without a rope. Honnold's climb is regarded as one of the greatest athletic accomplishments of all time, and it established the ultimate standard: excellence or death. Honnold's success in this endeavour places his name in the annals of human achievement. It is both a suspenseful thriller and an uplifting profile of an athlete who exceeded expectations for human physical and mental prowess.
---
2. Born in China (2016)
Runtime:  1h 19m
Genre: Documentary
Directors: Chuan Lu
Stars: John Krasinski, Claire Keim, Xun Zhou
Born in China, which has beautiful images, soars on the wings of red-crowned cranes across wide landscapes, from frigid mountains to the center of a bamboo forest, revealing for the first time the incredibly intimate family moments documented in the movie. Through the story of three animal families, director Lu Chuan transports the audience on an epic trip through China's most distant locations. A protective mother panda guides her growing cub as it starts to explore and look for independence. A two-year-old golden snub-nosed monkey who feels dislocated by the birth of his new baby sister, so it joins a free-spirited outcasts. A mother snow leopard, an elusive creature that is rarely seen on camera, must deal with the very real drama of raising her two children in one of the world's harshest and most inhospitable settings.
---
3. Before the Flood (2016)
Runtime:  1h 36m
Genre: News, Documentary
Directors: Fisher Stevens
Stars: Leonardo DiCaprio, Ban Ki-moon, Alejandro G. Iñárritu
Leonardo DiCaprio, the UN Messenger of Peace, explores five continents and the Arctic in the documentary "Before the Flood" to learn the truth about climate change. Additionally, the film chronicles intergovernmental processes, which culminated in the signing of the Paris Climate Agreement in April 2016, a historic event in which Mr. DiCaprio participated as a keynote speaker. The movie also follows the intergovernmental processes that led to the historic April 2016 signing of the Paris Climate Agreement, which featured Mr. DiCaprio as a keynote speaker.
---
4. African Cats (2011)
Runtime:  1h 29m
Genre: Adventure, Documentary
Directors: Keith Scholey, Alastair Fothergill
Stars: Samuel L. Jackson, Patrick Stewart
The epic true narrative "African Cats" depicts a pride of lions and a family of cheetahs struggling to survive in the African savannah as well as the genuine love, humor, and tenacity of the majestic rulers of the savanna. The setting is one of the wildest locations on Earth. The story, which is narrated by Samuel L. Jackson, centers on Sita, a fearless cheetah and the single mother of five mischievous newborns, Mara, an endearing lion cub, and Fang, the pride's leader, who must protect his family from an enemy lion and his sons. The film's initiative with the African Wildlife Foundation is named "See African Cats, Save the Savanna."
---
5. Folklore: The Long Pond Studio Sessions (2020)
Runtime:  1h 45m
Genre: Drama, Music, Documentary
Directors: Taylor Swift
Stars: Taylor Swift, Aaron Dessner, Jack Antonoff
Taylor Swift, American singer-songwriter, makes her debut as a film director with this documentary. The documentary is filmed at Long Pond Studio, a remote recording studio tucked away in the Hudson Valley forest in New York. Taylor Swift performs all 17 tracks from her eighth studio album, Folklore (2020), explaining the meanings and backstories of each song. Together with her co-producers Aaron Dessner and Jack Antonoff, she talked about the inspiration for and significance of each song, as well as the difficulties and happiness. It brings to mind the album's wistful, nostalgic tone. The documentary garnered a lot of positive reviews from critics who commended its music, intimacy, graphics, and the understanding it provided of folklore.
---
6. Fire of Love (2022)
Runtime:  1h 38m
Genre: Biography, Documentary
Directors: Sara Dosa
Stars: Katia Krafft, Maurice Krafft, Miranda July
It tells the story of two courageous scientists and lovers Katia Krafft and Maurice Krafft. For two decades, this French volcanologist couple roamed the Earth, tracked eruptions and documented what they found. It was what they were doing that brought them together: demystifying our planet while capturing images of the most explosive volcano ever seen. Eventually, they were killed in a volcanic eruption in 1991, leaving a legacy that will forever enrich our understanding of the natural world. Along the way, they have transformed our understanding of the natural world and saved tens of thousands of lives.
---
7. The Rescue (2021)
Runtime:  1h 47m
Genre: Action, Mystery, Documentary
Directors: Jimmy Chin, Elizabeth Chai Vasarhelyi
Stars: Bancha Duriyapunt, Apakorn Youkongkaew, Anan Surawan
The Rescue chronicles the riveting, desperate story that shocked the world in 2018: the daring rescue of 12 boys and their coach from the depths of a flooded cave in northern Thailand. Academy Award-winning directors and producers E. Chai Vasarhelyi and Jimmy Chin use a wealth of never-before-seen material and exclusive interviews to piece together this high-stakes mission, highlighting the special tactics of the Royal Thai Navy's Navy SEALs and the U.S. Air Force, and detailing the daring adventures of expert cave divers as they dive the boys to safety. The Rescue tells the story of one of the most dangerous and extraordinary rescues of modern times, revealing the high-stakes world of cave diving, the amazing courage and compassion of the rescuers, and the common humanity of the international community that came together to save the boys.
---
8. Light & Magic(2022)
Genre: Documentary
Stars: George Lucas, Dennis Muren, Lorne Peterson
This 6-episode documentary series showcases the evolution of Industrial Light & Magic. Industrial Light & Magic is the special visual effects, animation and virtual production division of Lucasfilm. The company has produced iconic visual effects for Star Wars, E.T. the Extra-Terrestrial, Terminator 2, Jurassic Park, and many other films. The series tells the story of a group of creative geniuses working in the special effects department of ILM. It shows us the sources of inspiration for some of the most legendary filmmakers in Hollywood history, and trace their stories from their earliest solo films to bringing George Lucas' vision to life.
---
9. Jane (2017)
Runtime:  1h 30m
Genre: Biography, Documentary
Directors: Brett Morgen
Stars: Jane Goodall, Hugo Van Lawick, Hugo Eric Louis van Lawick
Jane is an intimate documentary about the life and career of renowned primatologist, animal behaviorist, and anthropologist Jane Goodall. Newly unearthed footage and exclusive interviews trace her journey from an untrained, animal-loving young woman who challenged the male-dominated scientific consensus of the time through chimpanzee research, revolutionizing the understanding of the natural world and growing into one of the most respected names of her time. Much of the film centers on her observatory in Gombe Stream National Park in Tanzania, Africa, where she struggled to win the trust of local chimpanzees and then used unconventional methods to reveal key information about them and their similarities to humans.
---
10. Summer of Soul (...Or, When the Revolution Could Not Be Televised) (2021)
Runtime:  1h 58m
Genre: Music, Documentary
Directors: Questlove
Stars: Dorinda Drake, Barbara Bland-Acosta, Darryl Lewis
Half musical movie, half historical record, Summer of Soul tells the story of the legendary 1969 Harlem Cultural Festival, which celebrated African-American music and culture and promoted black pride and unity. It reveals the importance of history to our spiritual well-being and demonstrates the healing power of music in turbulent times past and present. The Harlem Cultural Festival was filmed over a six-week period in the summer of 1969 at Mount Morris Park (now known as Marcus Garvey Park), 100 miles south of Woodstock. As with this documentary, most of the recordings made during the 1969 Harlem Cultural Festival have not been heard in more than 50 years, leaving this incredible event in American history forgotten-until now. The film includes music legends Stevie Wonder, Nina Simone, Sly & the Family Stone, Gladys Knight and the Pips, Mahalia Jackson, B.B. King, The 5th Dimension and more. King, The 5th Dimension, and more in concert.
---
Part 2: FAQs
1. What types of documentaries are included on Disney Plus?
A wide variety of documentary topics are covered by Disney Plus. Documentaries contain fresh documentaries on a variety of subjects in addition to National Geographic channel. These subjects include anything from Pixar's emergence to the daily operations of the Disney machine. Fans of history, science, Disney, and animals may all discover their favourite content on Disney Plus.
2. Are all of the Disney Plus documentaries appropriate for kids?
While Disney Plus has a lot of kid-friendly documentaries, some of the titles may have mature themes or language. Before letting your kids watch them, it would be a good idea to check the ratings and content warnings. Or you can look at our other recommendations: 10 Best Kids Films on Disney Plus.
3. If I don't have a subscription, can I watch documentaries on Disney Plus?
Disney Plus is no longer offering a free trial, so there is no way for you to try Disney Plus for free. You can only watch Disney Plus content by subscribing to its plans.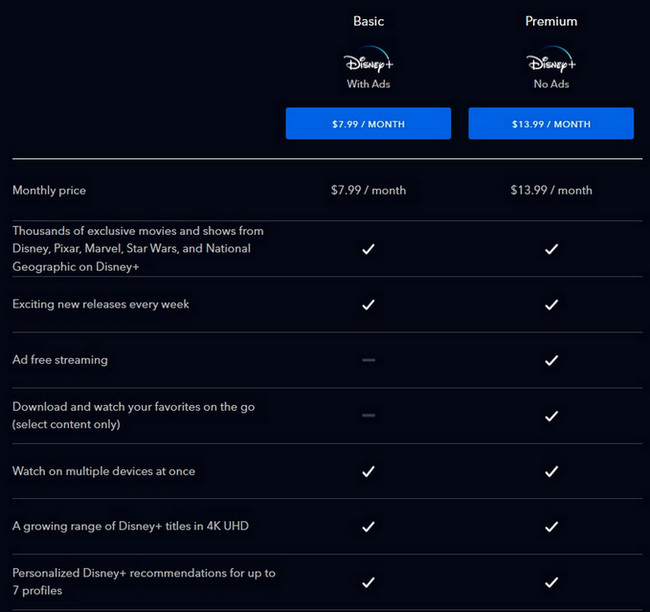 4. Can I download documentaries on Disney Plus to watch offline?
Yes, as long as you have a supported subscription plan and a supported mobile device, you can download any documentary on Disney Plus for offline viewing. Check Here to learn: How to Download Disney Plus Movies and TV Shows to Watch Offline?
---
Tips: Use DispCam to Download Disney Plus Videos and Movies
If you want to download Disney Plus videos, we suggest using a third-party video downloader so that you can bypass some download restrictions. DispCam stands out among many Disney Plus video downloaders for its powerful functions. It enables you to download HD videos with the original audio tracks and subtitles kept. You may transfer your downloads to other devices like USB drives and SD cards thanks to its ability to export videos in MP4 or MKV format. It is also capable of downloading ad-free videos on your computer, allowing you to watch videos offline whenever you want and wherever you are without being disturbed.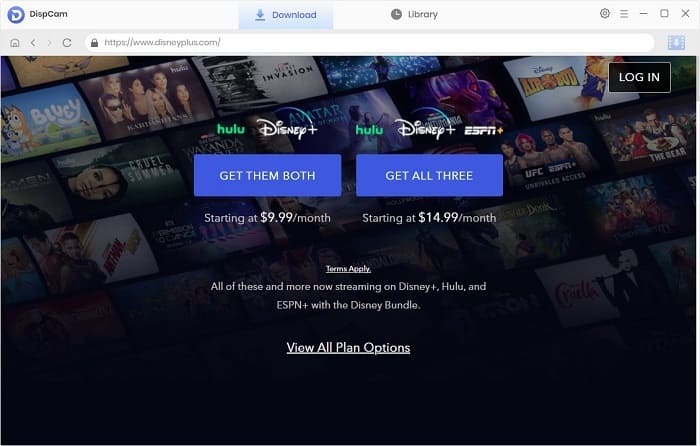 Note: The free trial version of DispCam allows you to download the first five minutes of each video. To download the full video, you may need to subscribe to DispCam to unlock the limitation.
---
Conclusion
Disney Plus has a lot of great documentaries that helps you explore this wonderful world. Every time you watch the documentaries, they will provide you with new information, give you a more objective understanding of the world and broaden your horizons. They are very interesting and suitable for all ages. If you would like to download any Disney Plus video and movies for offline viewing, it is highly recommended to use DispCam as a download tool to assist you in downloading HD videos in MP4 or MKV format.
---