Watch Top-Rated Action Movies on Disney Plus
Movies have long been an indispensable form of entertainment for modern people. Among the many subjects of movies, action movies are undoubtedly one of the most popular genres. They feature fantastic action scenes, fast-paced plots, and well-done special effects that make them enjoyable to watch. If they are in a more high-definition picture quality, such as Ultra High Definition or IMAX Enhanced, then viewers can enjoy a strong impact and appreciate the visual spectacle.
Next we'll cover 10 highly rated action movies on Disney Plus, some of which are available in ultra HD. It doesn't matter if the movie doesn't offer 4K quality, this article provides a way to help you improve the video quality efficiently.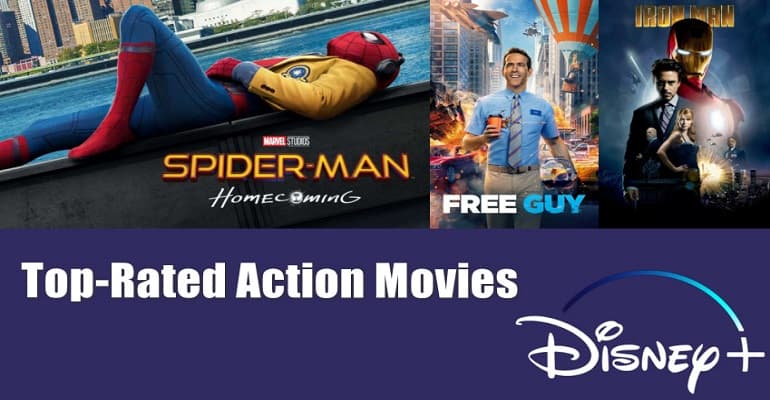 ---
Part 1: 10 Top-Rated Action Movies on Disney Plus
1. Pirates of the Caribbean: Curse of the Black Pearl (2003)
Video Quality:  4K Ultra HD, HDR 10
Runtime:  2h 23m
Genre: Adventure, Action, Fantasy
Directors: Gore Verbinski
Stars: Johnny Depp, Geoffrey Rush, Orlando Bloom
Set in the Caribbean in the mid-18th century, the film centers around a legend about a cursed treasure. Anyone who takes the treasure is cursed and becomes an immortal creature who can only feel endless hunger and pain, and their true bones would reveal in the moonlight. The Governor's daughter, Elizabeth, is kidnapped by Captain Barbossa and his crew aboard the Black Pearl for possession of a cursed Aztec gold medallion that the crew needs to lift the curse. With the help of blacksmith Will Turner, Captain Jack Sparrow embarks on a daring rescue mission to save Elizabeth and reclaim his stolen ship, the Black Pearl. With quick thinking and resourcefulness, Jack manages to outsmart Barbosa and bravely embarks on a thrilling adventure.
---
2. Iron Man (2008)
Video Quality:  4K Ultra HD, HDR 10, IMAX Enhanced
Runtime:  2h 6m
Genre: Action, Adventure, Sci-fi, Fantasy
Directors: Jon Favreau
Stars: Robert Downey, Jr.Gwyneth Paltrow, Terrence Howard
The film centers around genius billionaire and weapons manufacturer Tony Stark, who is kidnapped by the terrorist organization Ten Rings while demonstrating his latest weapon in Afghanistan, forcing him to build a devastating weapon. Instead, he builds a prototype suit of powered armor and manages to escape. Back home, Stark uses the advanced technology of his battle armor to fight crime and protect the innocent, and becomes Iron Man. However, he faces a challenge from corrupt executives in his own company when his business partner, Obadiah Stane, betrays him and tries to take control of Stark Industries and sell weapons to terrorists. Stark eventually defeats Stein and exposes his wrongdoings to the world, cementing his role as a hero.
---
3. The Avengers (2012)
Video Quality:  4K Ultra HD, HDR 10
Runtime:  2h 23m
Genre: Action, Adventure, Fantasy, Sci-fi
Directors: Joss Whedon
Stars: Robert Downey Jr., Chris Evans, Scarlett Johansson
The story revolves around the evil Loki, Thor's adopted brother, who plans to conquer Earth by acquiring a powerful artifact called the Cosmic Cube. In order to defend the earth against the evil Loki, Iron Man, Captain America, Thor, Hulk, Black Widow, Hawkeye and a number of Marvel superheroes, formed a team called "The Avengers". Facing internal conflict and challenges, the Avengers must learn to work together and overcome their differences as they work together to stop Loki and his army of alien creatures (known as the Chitaris) from destroying New York City. In the end, the Avengers succeed in defeating Loki and saving the world.
---
4. Deadpool (2016)
Runtime:  1h 48m
Genre: Action, Adventure, Comedy, Fantasy
Directors: Tim Miller
Stars: Ryan Reynolds, Morena Baccarin, T.J. Miller
Wade Wilson is a former Special Forces operative who is now a freelance mercenary. After he falls in love with a prostitute named Vanessa, he discovers he has terminal cancer and ends up leaving her quietly. He is taken to a lab run by Ajax and Angel Duster to undergo an experimental treatment for cancer. While the experiment gave Wilson accelerated healing powers, it also left him severely disfigured, with burn-like scars all over his body. He takes on the guise of Deadpool and hunts down the man who nearly ruined his life.
---
5. Logan (2017)
Runtime:  2h 17m
Genre: Action, Adventure, Fantasy
Directors: James Mangold
Stars: Hugh Jackman, Patrick Stewart, Dafne Keen
In 2029, the number of mutants is drastically reduced as genetically modified plants are designed to reduce mutant powers and the X-Men are disbanded. The aging Logan suffers from a decline in his ability to heal himself. He began drinking heavily and now works as a chauffeur for a living. He takes care of the ailing X-Men founder Xavier and hides him away. One day, a strange woman asks Logan to drive a girl named Laura to the Canadian border. Logan discovers that Laura has extraordinary fighting abilities and is like Wolverine in many ways. She is being hunted by Pierce, a villain working for the biotech company Alkali-Transigen, who created her from Logan's DNA. Logan must now protect the girl, and he has to ask himself if he can or even wants to put his remaining powers to good use and fight the dark forces that want to capture her.
---
6. Doctor Strange (2016)
Video Quality:  4K Ultra HD, HDR 10, IMAX Enhanced
Runtime:  1h 55m
Genre: Action, Adventure, Fantasy
Directors: Scott Derrickson
Stars: Benedict Cumberbatch, Chiwetel Ejiofor, Rachel McAdams
The story tells the story of brilliant but arrogant neurosurgeon Dr. Stephen Strange, who is unable to continue his surgical career after a car accident leaves him with severely injured hands. In search of a cure, he travels to Kathmandu and meets Ancient One, a long-lived shaman who teaches him the mystical arts. Under the tutelage of the Ancient One, Strange learns about the existence of different dimensions and the mystical arts and learns how to manipulate time, space, and reality itself. Strange discovers that Kaecilius, a former disciple of the Ancient One, is attempting to bring about the end of the world by summoning Dormammu, who exists in the Dark Dimension. Strange and his allies Mordo and Master Wong must stop Kaecilius and his fanatics from destroying the world. In a duel, he uses a time loop to trap Dormammu, forcing him to leave the planet and take Kaecilius with him. Eventually, Dr. Strange becomes the protector of the Sanctuary in New York, vowing to fend off mysterious threats.
---
7. Spider-Man: Homecoming (2017)
Runtime:  2h 13m
Genre: Action, Adventure, Fantasy, Comedy
Directors: Jon Watts
Stars: Tom Holland, Michael Keaton, Robert Downey Jr.
After the events of Captain America: Civil War, Peter Parker is mentored by Tony Stark (Iron Man) and given a new suit utilizing advanced technology. Parker returns home to New York City and tries to balance life as a teenager with his crime-fighting aspirations as Spider-Man. Meanwhile, a new villain named Adrian Toomes appears in the city wearing the Vulture suit, using advanced weapons stolen from alien technology. Parker is determined to prove himself and take on Toomes and his gang, but faces numerous challenges along the way. With the help of his best friends Ned and Tony Stark, Peter eventually defeats Toomes and saves the world. Along the way, Parker learns valuable lessons about friendship, loyalty, and what it really means to be a hero.
---
8. Thor: Ragnarok (2017)
Video Quality:  4K Ultra HD, HDR 10, IMAX Enhanced
Runtime:  2h 10m
Genre: Action, Adventure, Sci-fi, Fantasy, Comedy
Directors: Taika Waititi
Stars: Chris Hemsworth, Tom Hiddleston, Cate Blanchett
Two years after the Battle of Sokovia, Thor is imprisoned by the fire demon Surtur. He manages to escape and returns to Asgard, where he finds his sister Hela resurrected and planning to take the throne of Asgard. Thor crash-lands on the planet Sakaar, where he is forced to take part in a gladiatorial fight. There, he meets Hulk and a Valkyrie named Scrapper 142, and convinces them to help him stop Hela and save Asgard. Thor and his allies face numerous challenges, including a confrontation with Hela's undead army and the destruction of Asgard. Realizing that only Ragnarök can stop her, Thor puts the crown of Surtur into the Eternal Flame that burns in Odin's vault and uses it to destroy Asgard and Hela. Eventually, Thor becomes the new king of Asgard, and he evacuates the surviving Asgardians to a spaceship to bring them to Earth.
---
9. Black Panther (2018)
Video Quality:  4K Ultra HD, HDR 10, IMAX Enhanced
Runtime:  2h 14m
Genre: Action, Adventure, Fantasy
Directors: Ryan Coogler
Stars: Chadwick Boseman, Michael B. Jordan, Lupita Nyong'o
After his father's death, T'Challa returned to Wakanda, an isolated and technologically advanced African nation, to serve as the new king. However, T'Challa's rule is challenged by Killmonger, a former black ops soldier with a personal vendetta against Wakanda. Killmonger seizes the throne and plans to use its resources to foment a global revolution against oppression. As Black Panther, T'Challa must meet the political challenge and protect his vibranium advanced technology from falling into the wrong hands. With the help of his allies, ex-lover Nakia, Wakanda Special Forces Dora Milaje, and CIA agent Everett Ross, T'Challa returns to Wakanda and battles Killmonger, ultimately defeating him.
---
10. Free Guy (2021)
Runtime:  1h 55m
Genre: Action, Adventure, Comedy
Directors: Shawn Levy
Stars: Ryan Reynolds, Jodie Comer, Taika Waititi
Guy, a bank teller, is an NPC in the highly successful open-world video game Free City. He wears the same clothes, orders the same coffee, and goes to the same bank every day. After Guy meets a Molotov girl, he begins to deviate from his programming. When Guy realizes his surroundings and the fact that he lives in a virtual world, he decides to break away from his intended role, but he faces various challenges and obstacles, including fighting other players and overcoming his limitations as an NPC. As Guy becomes popular with the players for his rebellious and heroic behavior, he becomes a symbol of hope and inspiration. In the climax, Guy confronts Antoine, the game company's CEO, who reveals his plans to release a new game and replace Free City entirely. However, with the support of the Molotov Girl, other players, and even other NPCs inspired by his actions, Guy succeeds in stopping Antoine's plans and saving "Free City".
---
Part 2: How to Watch 4K Movies from Disney Plus?
If you want to stream 4K content from Disney Plus, you need to have a Disney Plus subscription, a device that supports 4K streaming and a fast enough internet connection. When the network condition is poor, the movie may freeze, stutter, and flicker. Therefore, it is more recommended to download the movie and watch it offline.
DispCam can be your first choice, if you are looking for a safe, professional and reliable video downloader. Its performance is far superior to other Disney Plus video downloaders on the market. It is capable of downloading Disney Plus videos and movies as MP4 or MKV files on your computer (Windows 11/10/8/8.1/7 and macOS 10.15 - macOS 13), making it easy to watch Disney Plus offline on any other device. The videos downloaded by DispCam are free of ads, providing you with a better experience of catching up on your favorite titles. Not only does it support saving video up to 720p with audio and subtitles in multiple languages, but also saving video, audio or subtitles individually.
Step 1 Run DispCam on your PC after installing it. Then, sign into your Disney Plus account with your login credentials.
Step 2 Search the video by entering the name or the link of the video copied from Disney Plus web. Go to the "Settings" window to choose the output settings for your downloads.
Step 3 You can customize your video quality, audio languages, and subtitles languages in the "Advanced Download" settings window. When set up everything, click the "Download" button to starting downloading the video. Learn More >>
---