4K Marvel Movies on Disney Plus You Can Not Miss
Marvel movies are well-known for its stunning visual effects, which include outstanding special effects, action scenes, and visual design. These features give the spectator with a visually beautiful delight. In this case, people are more inclined to watch movies in Ultra HD 4K as they can enjoy the vivid and realistic visual experience. Many of the Marvel movies on Disney Plus are available in 4K, and we're going to introduce you to some Marvel movies that are well worth checking out.
---
1. Can I Watch 4K Marvel Movies on Disney Plus?
Regardless of which plan you subscribe to, Disney Plus Basic or Premium, Disney Plus allows you to watch all 4K UHD content at no additional cost. But the prerequisite is that you have a TV or streaming device that supports viewing 4K content and a fast enough Internet speed (at least 25 Mbps).
Please note that not all Marvel titles can be watch in 4K resolution and not all supported devices can stream 4K content. Devices on which viewers can watch Disney+ in 4K UHD include:
Apple TV 4K
Android Smart TVs
Amazon Fire TV 4K
LG Smart TVs
Google Chromecast Ultra
Samsung Smart TVs
PlayStation 4, PlayStation 5
Xbox One S, Xbox One X, Xbox Series X, or Xbox Series S
Roku Premiere, Roku Premiere+, Roku Ultra,Roku Ultra LT, Roku Express 4K, Roku Express 4K+
...
Tips: How to Find 4K Content?
The following steps only apply to finding 4K movies on Disney Plus. If you want to know about the video format options offered by a TV show, you need to click on the item and view its details.
Through web browser: Click "Movies" in the tab bar at the top > Click the drop-down menu and you can find "Ultra HD and HDR" option at the bottom of the list.
Through the app: Click the magnifying glass search icon at the bottom > Select the "Movies" button below the "Explore" heading > Tap the drop-down menu that defaults to Featured, then select "Ultra HD and HDR" option or the options may appear as tabs at the top of the page instead of a drop-down menu on smart TVs.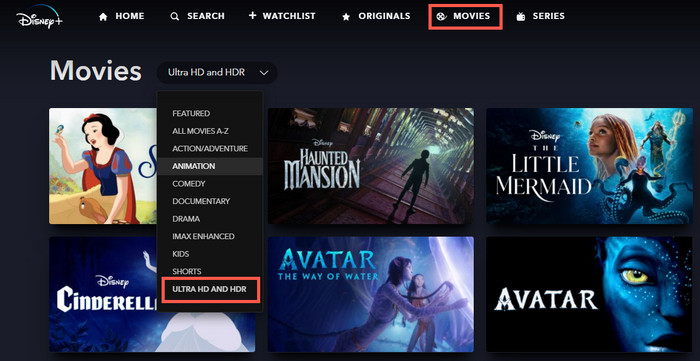 ---
Best 4K Marvel Movies to Watch on Disney Plus
1. Iron Man (2008)
Runtime:  2h 6m
Genre: Action, Adventure, Sci-fi, Fantasy
Directors: Jon Favreau
Stars: Robert Downey, Jr.Gwyneth Paltrow, Terrence Howard
Tony Stark, a brilliant billionaire and weapons developer, is forced to create a lethal weapon after being abducted by the terrorist group Ten Rings while showcasing his newest weapon in Afghanistan. Rather, he constructs a working prototype powered armour suit and escapes. Returning home, Stark transforms into Iron Man by using the cutting-edge technology of his battle armour to thwart evil and defend the defenceless. But when his business associate, Obadiah Stane, betrays him and attempts to take over Stark Industries and sell weapons to terrorists, he is challenged by dishonest executives in his own organisation. In the end, Stark vanquishes Stein and makes the world aware of his transgressions, solidifying his status as a hero.
---
2. Guardians of the Galaxy (2014)
Runtime:  2h 2m
Genre: Action, Adventure, Comedy
Directors: James Gunn
Stars: Chris Pratt, Vin Diesel, Bradley Cooper
A gang of misfits from beyond the galaxy band together to save the galaxy. Among the group is Peter Quill, also known as Star-Lord, who pilfered an enigmatic Orb from a far-off planet. What he doesn't know is that this Orb has immense power and is being hunted by Ronan, the evil accuser. Gamora, Ronan's adopted daughter and a skilled assassin; Drax the Destroyer, a vindictive warrior seeking retribution from Ronan for his family's murder; Rocket, a genetically enhanced raccoon with a penchant for weapons and explosives; and Groot, a tree-like humanoid with a limited vocabulary. They join forces to stop the evil accuser Ronan from wreaking havoc with the powerful artifact of the "Orb". Along the way, the Guardians encounter various challenges and conflicts. They eventually realize that they must work together and accept their differences in order to save the galaxy.
---
3. Captain America: Civil War (2016)
Runtime:  2h 27m
Genre: Action, Adventure, Fantasy
Directors: Anthony RussoJoe Russo
Stars: Chris Evans, Robert Downey Jr., Scarlett Johansson
The Sokovia Accords, a series of regulations governing the Avengers' activities, are introduced by the UN after a mission in Lagos results in civilian casualties. This causes a rift between the Avengers: Captain America opposes government control and believes the Avengers should be free to defend humanity without intervention from the government, while Iron Man is in favour of it and believes the Avengers should be held accountable for their deeds. When Bucky Barnes Winter Soldier, a boyhood buddy of Rogers', is charged with terrorism, the situation gets worse. Two groups of heroes engage in combat as a result of this ideological conflict.
---
4. Doctor Strange (2016)
Runtime:  1h 55m
Genre: Action, Adventure, Fantasy
Directors: Scott Derrickson
Stars: Benedict Cumberbatch, Chiwetel Ejiofor, Rachel McAdams
Dr. Stephen Strange is a gifted but conceited neurosurgeon who suffers significant hand injuries in a car accident that prevents him from continuing his surgical profession. He goes to Kathmandu in quest of a cure, where he encounters Ancient One, a shaman with a long life who instructs him in the mystical arts. Strange gains knowledge of the different dimensions, the mystical arts, and the ability to control reality itself—including time and space—under the guidance of the Ancient One. Strange discovers that Dormammu, who resides in the Dark Dimension, is being summoned by Kaecilius, a former pupil of the Ancient One, in an attempt to bring about the end of the world. To prevent Kaecilius and his followers from destroying the world, Strange, together with his allies Mordo and Master Wong, must act. Using a time loop, he traps Dormammu in a duel that compels him to flee the planet and take Kaecilius with him. In the end, Dr. Strange promises to repel enigmatic dangers and takes on the role of guardian of the Sanctuary in New York.
5. Guardians of the Galaxy Vol.2 (2017)
Runtime:  2h 17m
Genre: Sci-fi, Adventure, Action, Fantasy, Comedy
Directors: James Gunn
Stars: Chris Pratt, Zoe Saldana, Dave Bautista
The Guardians of the Galaxy are a band of grungy heroes that carry on the team's exploration of the furthest corners of the cosmos, and this film is a continuation of their exploits. While figuring out Peter Quill's real origins, the Guardians have to work to maintain the unity of their new family. Star-Lord is happy to connect with his god-like father, Ego, when they first meet, but he soon learns of Ego's true motivations—he needs Quill's Celestial power to carry out his schemes. When Ego's actual motivations become clear, the Guardians will have to band together to resist him.
---
6. Thor: Ragnarok (2017)
Runtime:  2h 10m
Genre: Action, Adventure, Sci-fi, Fantasy, Comedy
Directors: Taika Waititi
Stars: Chris Hemsworth, Tom Hiddleston, Cate Blanchett
The fire demon Surtur imprisons Thor two years after the Battle of Sokovia. After escaping back to Asgard, Thor discovers that his sister Hela, Asgard's goddess of death, has been resurrected and plans to conquer Asgard. She easily defeats Thor and takes control of Asgard. Thor is exiled to the planet Sakaar, forced to participate in a gladiatorial contest. There, he befriends Hulk and Scrapper 142, a Valkyrie, and persuades them to assist him in stopping Hela and preserving Asgard. The ruin of Asgard and a showdown with Hela's army of the undead are just two of the many obstacles that Thor and his companions must overcome. Thor, knowing that only Ragnarök can end her, places Surtur's crown in the Eternal Flame burning in Odin's vault and uses it to destroy Hela and Asgard. Thor eventually ascends to the throne of Asgard and takes the remaining Asgardian citizens to Earth by spaceship.
---
7. Black Panther (2018)
Runtime:  2h 14m
Genre: Action, Adventure, Fantasy
Directors: Ryan Coogler
Stars: Chadwick Boseman, Michael B. Jordan, Lupita Nyong'o
The story begins shortly after the events of Captain America: Civil War. T'Challa returns to Wakanda as king after the death of his father. Wakanda is an isolated nation that has used its rich deposits of vibranium to develop advanced technology. But when a powerful villain Killmonger reappears, T 'Challa's mettle as King and Black Panther is tested, and he is drawn into a terrifying conflict that puts the fate of Wakanda and the entire world at stake. T'Challa eventually overcame Killmonger with the aid of his highly developed suits and the backing of his devoted supporters, who included his sister Shuri and his ex-lover Nakia. He chooses to open Wakanda to the outside world, using its resources to aid others and build a better future after realising how important it is to learn from the mistakes made in the past.
---
8. Avengers: Infinity War (2018)
Runtime:  2h 29m
Genre: Action, Adventure, Fantasy, Sci-fi
Directors: Anthony RussoJoe Russo
Stars: Robert Downey Jr., Chris Hemsworth, Mark Ruffalo
Thanos, the powerful villain, is tasked with collecting all six Infinity Stones for unimaginable power and executing his plan to wipe out half of all life in the universe in order to achieve balance. The Avengers, as well as the other heroes of the Marvel Universe, including the Guardians of the Galaxy and Doctor Strange, unite to form a diverse team to defend the Infinity Stones and fight against their most powerful foe Thanos yet. Despite their united efforts, Thanos defeats them and gains control of the Time Stones, thus reversing their attack. When he completed his mission to collect all the Stones, he snapped his fingers, causing half of all life in the universe, including several Avengers, to turn to dust.
---
9. Avengers: Endgame (2019)
Runtime:  3h 2m
Genre: Action, Adventure, Fantasy, Sci-fi
Directors: Anthony Russo, Joe Russo
Stars: Robert Downey Jr., Chris Evans, Mark Ruffalo
The surviving Avengers members work with the other heroes to devise a plan to reverse the effects of the Snap. They traveled through time and space to collect the Infinity Stones from various locations in the past to reverse the actions of Thanos. Throughout the journey, the Avengers encounter various challenges and confront their past selves, leading to some emotional and nostalgic moments. Finally, in a climactic battle, all the heroes, as well as those recovering from Snap, unite against Thanos and his army. Iron Man manages to steal the stones from the Thanos and uses them to destroy him and his army, sacrificing himself in the process.
---
Extra Tips: How to Watch Disney Plus Content Offline on Any Device?
It is prohibited to transfer downloaded Disney Plus files to other devices or even attempt to locate them on your device due to the fact that they are stored in an encrypted format. However, there is no need to worry as this article provides a reliable solution for streaming Disney Plus content offline from anywhere using DispCam.
DispCam is a professional download tool that is dedicated to helping all Disney+ users save their favourite content for offline viewing. It can easily download HD titles without advertisement no matter what subscription you have. Plus, the original audio tracks and subtitles can also be preserved. Since DispCam features the ability to save the downloads in compatible MP4 or MKV format, you can transfer them to other devices without any limitations and watch them anywhere. All the downloads will be saved on your device forever unless you delete them manually.
If you want to improve the quality and clarity of your Disney Plus downloaded videos, use AVCLabs Video Enhancer AI. It is an excellent video enhancement program that can upscale videos to 4K and even up to 8K. And it is also possible to adjust color balance and brightness to enhance color and contrast, making the video more vivid and attractive.
---