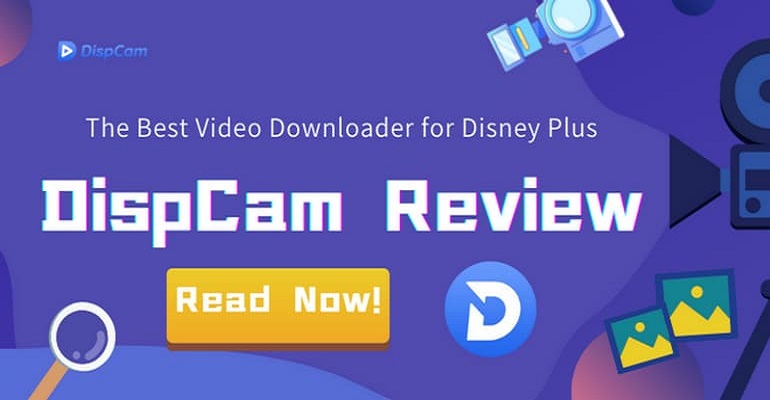 DispCam Review: The Best Disney Plus Video Downloader
Streaming videos on Disney Plus is a great way of modern recreation no matter you are a grown-up or a little kid. However, there are a lot of situations in that people prefer to watch Disney+ videos offline. The fact is that Disney+ has strict regulations for the downloads, like validation of subscription plans and the downloads, the supported devices, and so on. Therefore, many people turn to video downloaders. And there is no reason that you don't know DispCam, which might be the best among all the Disney Plus video downloaders, as you can use DispCam to download your favorite movies and shows offline anytime and anywhere without limitations. This article is a full review of DispCam. Let's read on to see if it is the right choice for you.
1. What is DispCam?
A professional tool that can help you download movies and TV shows from Disney+, and enjoy the content offline at any time.

Learn more about DispCam >>
DispCam is a fast, full-featured, and professional Disney Plus video downloading application for you to download movies, TV shows, originals, and documentaries from Disney, Pixar, Marvel, and more. DispCam makes saving Disney Plus movies and shows forever possible by providing unlimited and comprehensive downloading features to help Disney Plus fans download any wanted video freely with just one click.
---
2. What Can DispCam Do?
Download Movies and Shows from Disney Plus Official Website
DispCam is designed to help users download Disney Plus movies and shows from the web player as long as they can be played on the Disney Plus official website, which means users don't even need to install the Disney Plus app. DispCam adopts a leading technology to record unencrypted video without any protection being circumvented. And there is no need to worry about the copyright issue since TunePat strictly complies with the US copyright regulations.
Intelligent and Quick Search by Title and URL
DispCam is equipped with a smart search engine, which allows users to find the wanted video by both title and link. If you want to quickly pinpoint a single video to download, you can directly copy the link from the Disney Plus website and paste it into the search box on DispCam. While it is suggested to key in the title if you need more videos that are related to a title.
Support Downloading HD (720p) Disney Plus Videos
The highest resolution of the videos downloaded by DispCam is 720p, which is also the best resolution available for all the Disney Plus video downloaders in the market. Besides that, DispCam also offers users the option to choose a lower resolution if their device lack storage space.
Save Disney Plus Videos as MP4 and MKV Format
DispCam gives users 2 choices of video format to meet their different needs for compatibility and clarity: MP4 and MKV. If you want to play the downloads on many different devices, MP4 must be your first choice. However, if you have the latest device with top configuration, you can totally choose MKV as the video format.
Support H.264 and H.265 Video Codecs
Both H.264 and H.265 video codecs are available on DispCam, which are the most commonly used video codecs. Videos will be saved in higher quality and at lower data rates if you use H.264, an industry standard for video compression. While H.265 is a more efficient codec, it can save more storage space. In fact, users don't even need to worry about storage space because the videos downloaded by DispCam can be transferred to other devices with enough space.
Keep Multi-Language Audio Tracks and Subtitles
It is possible for DispCam to download the subtitles and the audio tracks in as many languages as are supported on Disney Plus' official website, and the downloads are of exactly the same quality as the original video. Therefore, users are free of language barriers, which is also very helpful when they are learning a foreign language. DispCam can also download video with 5.1 surround sound and description audio if they are available.
Support Three Popular Types of Subtitles
DispCam offers three kinds of subtitles encoding ways to meet users' needs for playing video on different media players or devices, namely external subtitles, internal subtitles, and hardcode subtitles. They all have their merits separately. External subtitles let you save subtitles as separate files. SRT file is also supported here so that you can easily edit the subtitles files if needed. The subtitles are built into the output video if you choose internal subtitles so that you switch the subtitle language as needed. Hardcode subtitles mean that the subtitles are directly burned onto the video, so you can only download one language at a time.
Offer Batch Mode and High Speed Downloading
Considering that there are many episodes in one show and that it's troublesome to add every episode to the download list, DispCam features a batch mode that allows users to add a season of shoes to the download list with one click. Then DispCam will download them one by one at high speed. If the computer permits, users can turn on the hardware acceleration in the "Advanced" tab to speed up the downloading.
---
3. What Devices Does DispCam Support?
DispCam is highly compatible with computers as it has 2 different versions for both windows and mac computers. users can check if their computer is suitable for DispCam below. Currently, DispCam is not available on mobile devices. But it doesn't mean that users can't watch the downloads on other devices except for computers. The fact is that users can transfer the downloads to any device that they want after they downloaded them with their computer. The transferable devices include phones, tablets, external hard drivers, and so on.
Supported Computer System :
Windows OS: Windows 7, 8, 8.1, 10, 11 (32 bit or 64 bit)
Mac OS: macOS 10.15, macOS 11, macOS 12, macOS 13 (Apple M1)
---
4. What is the Pricing of DispCam?
In order to let user experience the program themrself, DispCam offers free trials, with which they can download the first five minutes of each video. If you feel like DispCam is what you are looking for and commit to making your purchase, there will be three subscription plans for you to choose from. There is the monthly plan ($14.95), yearly plan ($59.95), and lifetime plan ($129.90). A discount is also offered if you contact the customer service with the condition that you have bought the service before. There is one thing you need to pay attention to as well, which is both monthly and yearly plans are auto-renewed. If you don't want to continue the subscription, please remember to cancel it in time before you get charged.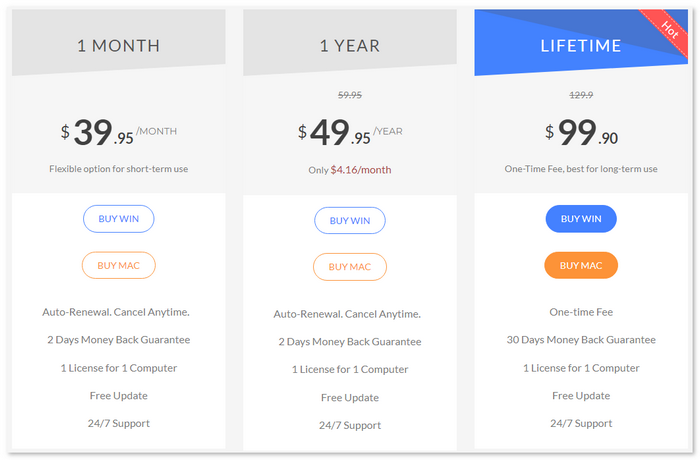 ---
5. How to Use DispCam to Download Videos?
To begin with, please make sure that you have downloaded and installed the latest version of DispCam on your computer. And here is a guide on downloading Disney Plus videos on Windows PC.
Step 1. Log in to Disney+ on DispCam with Your Account
Run DispCam and enter any word in the search bar. Or you can also type in the name of the video you want to download directly in this step. A pop-up window will appear. Please sign in with your Disney+ account on this window. And you don't have to worry that your passwords will be leaked.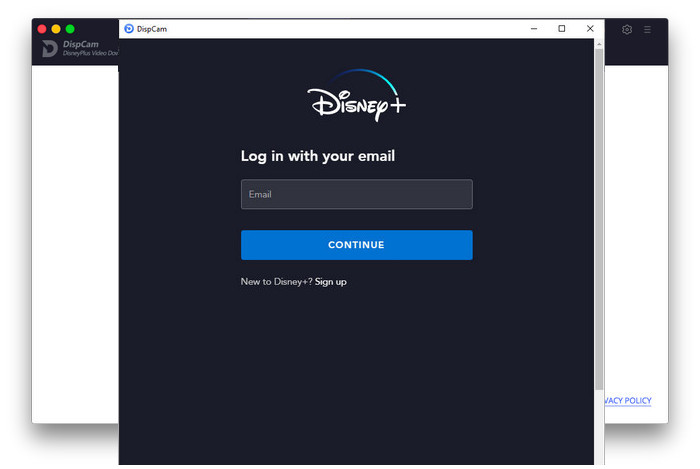 Step 2. Choose the Output Settings
After logging in to your Disney+ account, there is no need to be in a hurry to download videos. Please click the "Settings" button in the upper right corner of the program to choose the video format (MP4/MKV), video quality (Low, Medium, High), the language of audio and subtitles, and others in the "Download Settings" tab. In addition, the download process will be faster if the "hardware acceleration" is checked, you can set it in the "Advanced" tab.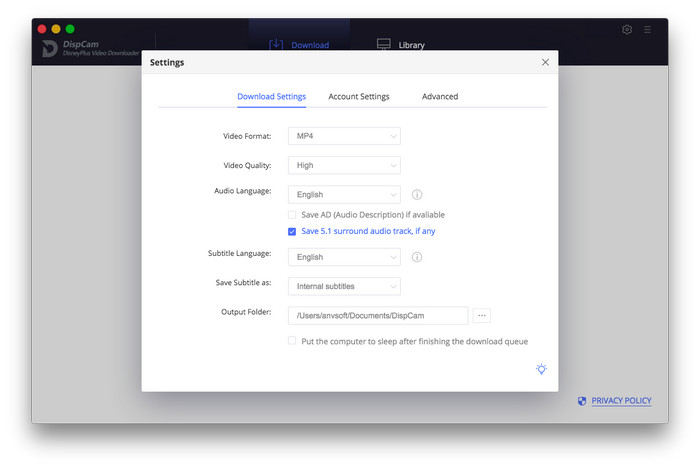 Step 3. Search for Wanted Disney Plus Video
If what you inserted in the first step is a random word, please delete them first, and then enter the title or the link of the wanted videos. If you directly put in the title in step one, the searching result will be displayed automatically now without re-entering anything.
The difference of entering tile and link lies in the search result. If you directly copy and paste the URL from the Disney Plus web player to DispCam, there will be only one result showed below the search box. if you enter the keywords of a video, you will get some related movies or shows and need to browse and find the one you want.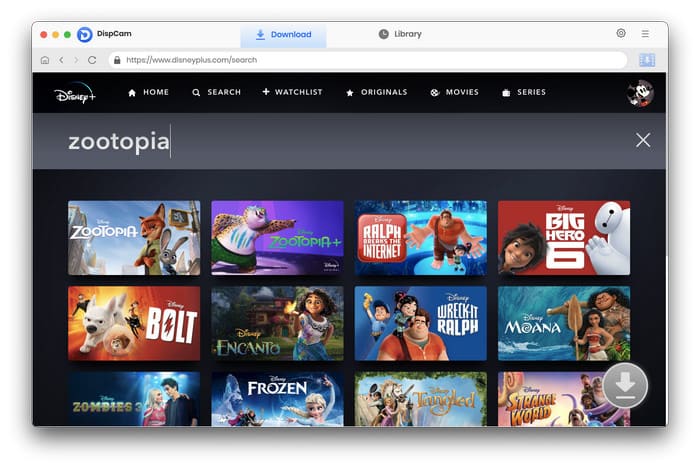 Step 4. Choose the Advanced Download Settings
After finding the wanted video, there will be advanced download settings available. You can select a specific audio track and subtitle file as your need and choose the video quality (from 240p-720p). When you try to download a movie, this option appears to the right of the "Download" icon. To download a TV show, click the "Download" icon and select the episodes you want to download from the pop-up window. The "Advanced Download" button will appear at the bottom left of the window.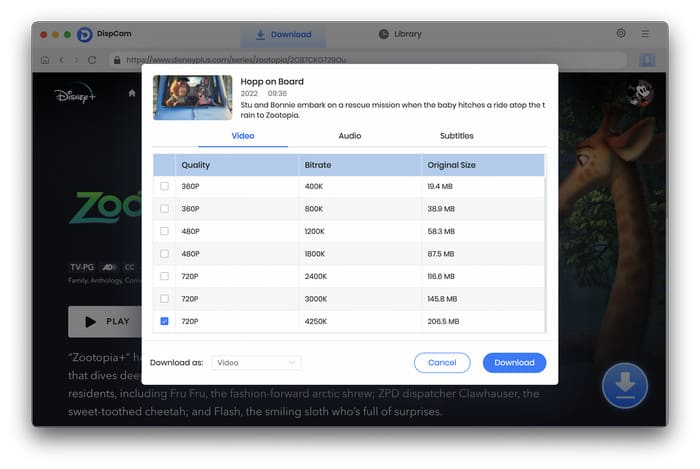 Step 5. Start Downloading Disney Plus Video to Your Computer
When you click the "Download" button, DispCam will begin downloading the videos you've chosen. You will soon have the wanted Disney Plus videos in your computer. During the waiting period, you can add other videos to the downloading list that you are interested in, and DispCam will download them one by one for you. Please ensure that your internet connection remains stable during this period.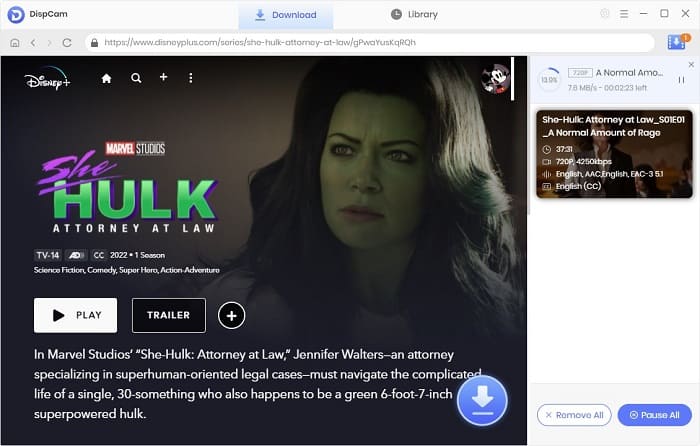 Once all videos have been downloaded, navigate to the "Library" tab to view the download history. To open the output folder where the videos are saved, click the "Folder" icon at the end of each video. This means you can transfer downloads from your computer to any other device because they are now stored on your computer.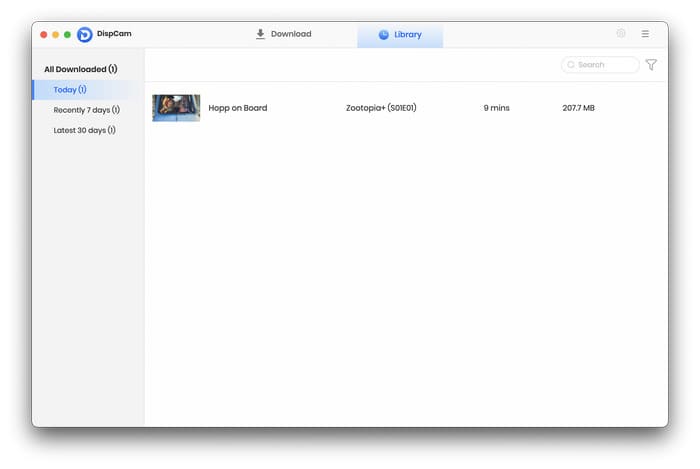 ---
6. The FAQ about DispCam
For now, you may have a lot of questions about DispCam in your mind. Here some frequently asked questions are listed . Hope they will be helpful to you. If your question is not included below, you can turn to DispCam official support for more details.
Do I Need to Install Any Extensions?
No. DispCam strives to keep things easy for users. You don't even have to install the Disney Plus app. That's it.
Can I Watch the DispCam Downloads When I am Abroad?
Yes, The downloads are always accsessible no matter where you are, because all videos are stored as local files.
Will My Disney+ Account Be Blocked If I Use DispCam?
Of course not. Generally, your account will not be blocked if you use DispCam to download videos normally. It is suggested to download a maximum of 30 titles per day , otherwise your account is probably blocked due to an abnormal high traffic access on Disney Plus.
Will the Resolution and the Audio be Damaged Using DispCam?
They will not be damaged. The program takes and downloads the video from the official web player of Disney+, usually with the original picture and soundtrack. Of course, if you are short of memory you can also download videos with a lower definition.
How Many Disney+ Videos Can be Downloaded with DispCam?
In technical theory, there is no limit to the number of videos you can download. As long as the video you want to download can be played on the Disney+ player, DispCam will download it for you. Please do not download too many for one day as Disney+ has very strict account security controls.
What Player Can be Used to Play the DispCam Downloads?
Almost all. The downloads of DispCam are highly compatible with most players like VLC, WMP, and so on.
Does DispCam Support the Hotstar Accounts?
The latest version of the app, released in 2023-05-04, already supports Disney+ Hotstar.
Will the DispCam Downloads Expire if My Subscription Expired?
Definitely not. No matter whether your subscription for DispCam or Disney+ expires or not, all the videos will never expire once they are downloaded before the expiration.
Final Words:
Overall, DispCam is a supercool software for downloading videos of high quality from Disney Plus! The performance of this video downloader is superb. The best part is that you can download any Disney Plus video freely and all the downloads on DispCam will never expire. So, is DispCam what you've been looking for?