5 Ways to Screen Record Disney+ [Ultimate Guide in 2023]
Disney Plus provides a variety of content that appeals to a wide audience, ranging from vintage Disney animated films to Marvel and Star Wars movies. Many people prefer to save videos so they can watch them permanently, but this is not allowed by Disney+ due to its download limits. Plus, Disney+ removes some videos from time to time. Therefore, some people will choose other methods to save the video on their own device, such as screen record.
But how to? This article develops an ultimate guide to introduce 5 feasible methods to screen record Disney Plus on different devices, such as Windows, Mac, and mobile device, along with their pros and cons and detailed recording steps.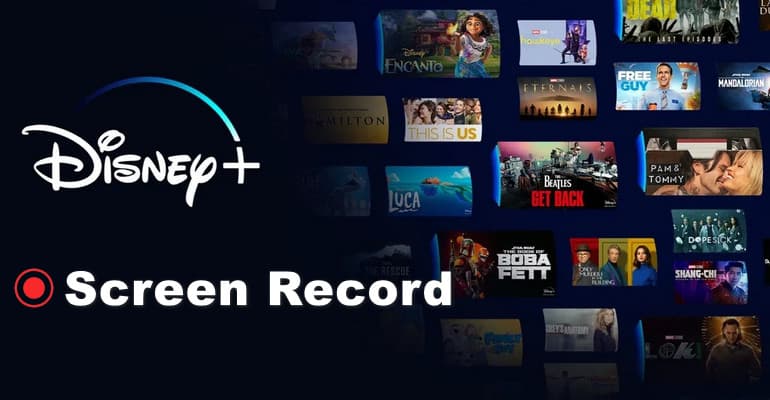 1. Record Disney Plus with DispCam
DispCam is ultimately the best solution to screen record your favourite Disney Plus content. It doesn't have problems like other screen recording tools have, such as not being able to save audio or even having a black screen condition. It is a safe and reliable Disney Plus video downloader that works effectively both on Windows and Mac (Windows 11/10/8/8.1/7 & macOS 10.15 - macOS 13).
This specialist tool is designed for saving full HD videos along with their audio and subtitles, without any jams and noises. There are numerous settings options available for you to choose from, like the languages of audio and subtitles, subtitles types, video codecs, and more. Videos downloaded by DispCam are saved in MP4 or MKV output format, which allows for easy transfer to any device for viewing or self-editing. With DispCam, you can quickly download your favorite videos with one click, without having to sit in front of the screen waiting for the video to finish recording.
>> Pros:
Work on Windows and Mac
Fast download speed and batch download
Save high-definition videos with audio and subtitles
Support downloading MP4/MKV format
How to Use DispCam:
Step 1 Download and install the latest version of DispCam on your computer. Launch it and enter some words into the search bar. Log into your Disney Plus account in the pop-up window.
Step 2 After login, search and find the videos you want to save by using the name, keyword, or link of the video.
Step 3 Select the video parameters you want to output in the "Settings" window. Here you can choose the video quality (High, Medium, Low), video format (MP4/MKV), audio languages, subtitles languages, subtitles format, and output path. In the "Advanced" tab, if hardware acceleration is available, it can be enabled.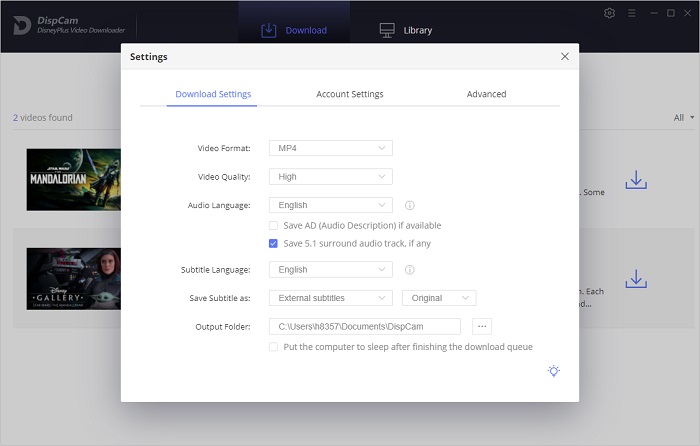 Step 4 If you want to make more specific settings for your video, go to the "Advanced Download" window, where you can select the video quality with size and bitrate, audio and subtitles with codec. DispCam also supports downloading video, audio, or subtitles separately.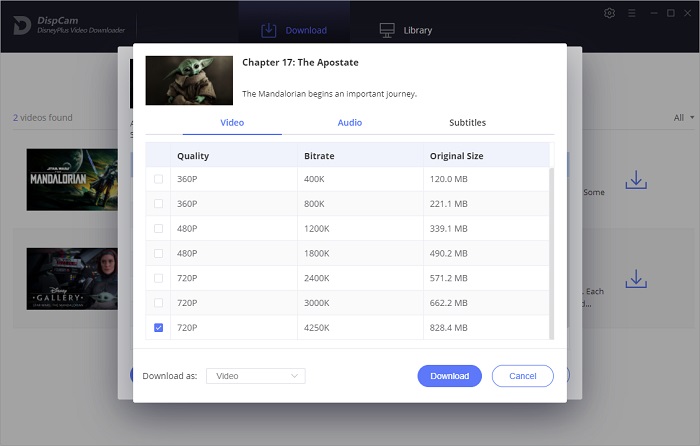 Step 5 Click the "Download" button and wait for the video to finish downloading.
---
2. Record Disney Plus with OBS
Open Broadcaster Software (OBS) is a powerful open source screen recording software and one of the most used streaming programs on the Internet. Not only does it support recording audio and video, it also allows you to connect to any live streaming or video conferencing platform, as well as live streaming using any digital camera. As such a professional program, it can be downloaded for free for Windows, Mac and Linux on your computer system.
>> Pros:
Work on Windows, Mac, and Linux
Record specific windows
Free with lots of customization features
Offer a forum for people to discuss
>> Cons:
Easily get a black screen
Difficult for beginners to get started
Not available on mobile devices
Only video is recorded without audio
How to Use OBS:
Step 1 Download and install OBS from its official website https://obsproject.com/download.
Step 2 Add a scene manually by clicking on the "+" icon in the Scenes tab at the bottom left of the interface. Similarly, click on the plus icon under the Sources tab.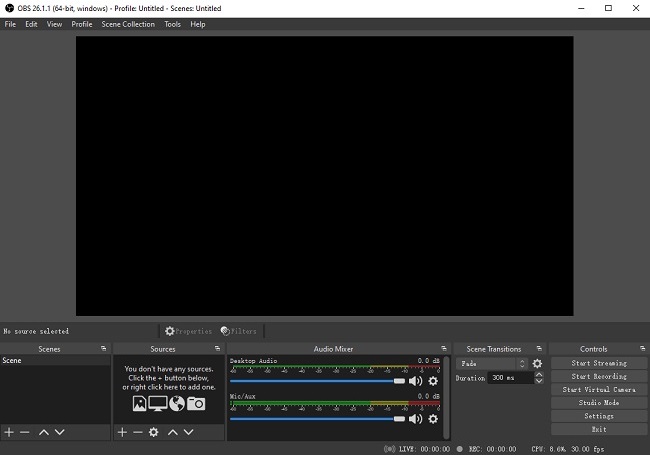 Step 3 Select "Display Capture" from the drop-down list. In the "Create one" window that pops up, name it and click the "OK" button.
Step 4 In the properties window, you can select display method, capture method, and whether to capture the cursor. If you want to change the output path of the file, you can modify it in the Settings tab at the bottom right corner of the screen.
Step 5 Start playing the Disney Plus show you want to record and click the "Start Recording" tab in the bottom right corner.
Step 6 When the recording is complete, click the "Stop Recording" button. The file will be automatically saved to the recording folder you set before.
---
3. Record Disney Plus with Xbox Game Bar
Xbox Game Bar is a tool built into Windows 10 and 11 with a variety of features for capturing game clips and screenshots. The tool was originally designed for gamers, but can also be used to record Disney Plus content, saving audio and video to your computer that can be used for playback or editing. Note that the Xbox Game Bar can't record the entire screen, and the only way to make sure the video records properly is to play the Disney Plus video through the Firefox browser.
>> Pros:
Easy to use
The video is saved in MP4 format
No need to download additional programs
>> Cons:
Only work on Windows
Recorded video without sound
The video cannot be saved because of infringement
Unstable screen recording, black screen or missing frames
How to Use Xbox Game bar:
Step 1 To open Xbox Game bar, simultaneously hit the Windows key and G on your keyboard. You'll see a series of widgets, such as Capture and Audio. If you don't see it, click the leftmost icon on the menu bar to open the widget window.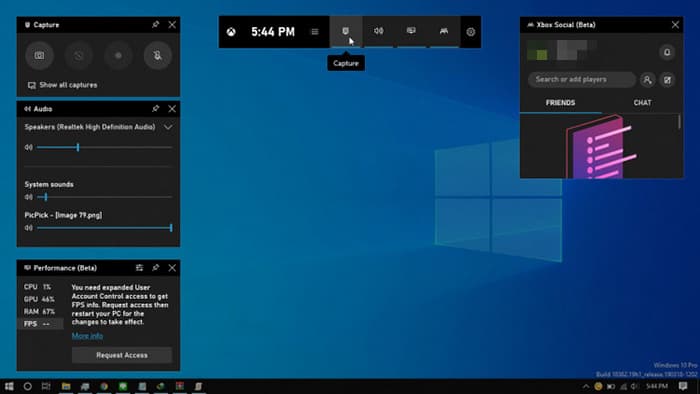 Step 2 Open the Disney Plus video you want to record in Firefox.
Step 3 Click the "Record" button under the Capture widget or press Windows + Alt + R to start recording. A small timer window will be displayed on the desktop.
Step 4 To end the screen recording, simply press the Windows + Alt + R keys again or click the "Stop Recording" icon. You can find your recorded video in the "Video" - "Capture" folder on your computer.
---
4. Record Disney Plus with QuickTime Player
QuickTime Player is a built-in application for macOS. It is much more than a simple multimedia player. In addition to watching videos, playing music, and viewing pictures, you can also record video, audio, and screen, and do some basic video editing, such as rearranging, adding, deleting, and trimming video clips.
>> Pros:
Easy to use
Allow recording of the entire screen
No need to download additional programs
>> Cons:
Only work on Mac
Export only in MOV file
The recorded video has no sound
How to Use QuickTime Player:
Step 1 Open the QuickTime Player app on your Mac. Click on the "File" tab and select "New Movie Recording" option from the drop-down list.
Step 2 A "Screen Recording" window will appear. Click the "arrow" icon beside the "Record" button to choose the settings of recording based on your needs, like the camera, microphone, and quality. Swiping the volume control symbol also changes the volume level of what is being recorded.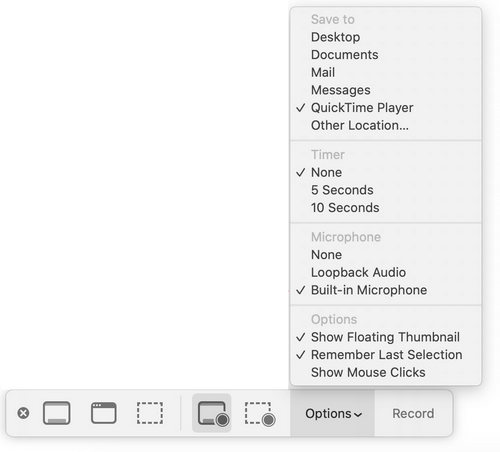 Step 3 Find the video you want to record from Disney Plus.
Step 4 Tap on the "Record" button and you will be asked to select and drag over the area you want to record. The recording will automatically begin.
Step 5 When done, click the "Stop" button on the toolbar, a circle with a square pattern in it. Your computer will automatically play back the video you just recorded. You can trim the video or save it directly on your computer if you have no problems by choosing "File" > "Save".
---
5. Record Disney Plus with PlayOn
PlayOn is a streaming video recorder with two different programs that work on mobile and PC: PlayOn Home for Windows and PlayOn Cloud for iPhone, Android and other mobile devices. It supports recording videos and movies from more than 20 sites, including Disney+, Netflix, Paramount+, Peacock, and more. It automatically skips advertisements during the recording process, ensuring that you are not disturbed by advertisements.
The differences between the PC and mobile versions are mainly reflected in the resolution of the recording and the price. The computer version costs just $4.99 per month for unlimited recording, but only supports recording up to 720p video. While the mobile device version supports up to 1080p video recording, it costs 3 points to record 1080p video and 1 point for 720p. (You'll need to spend $4.99 a month to get the 30 credits, and $10 if you want to buy additional ones.)
>> Pros:
Skip all advertisements
Support multiple streaming service platforms
Record videos in MP4 format with high-resolution
>> Cons:
Higher costs are required
A dazzling selection of plans and credits packs
The recorded video is just stored in the cloud and need to download again
How to Use PlayOn:
Step 1 Download and install the app and launch it on your mobile device/PC.
Step 2 Click on the "Channels" tab and choose Disney Plus.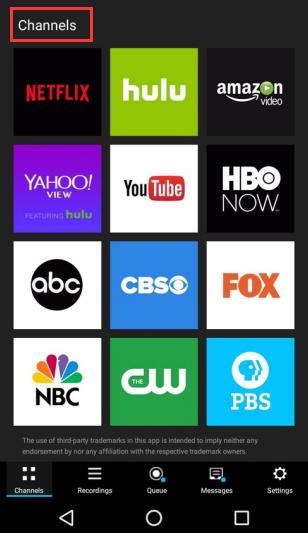 Step 3 Find the video or movie you want to record and then click on the blue "Record" button. PlayOn will record your selected video in the background. Once the recording is complete, the video will be saved in MP4 format on your cloud.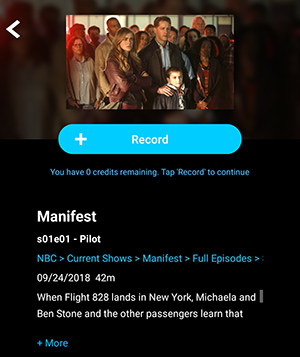 Step 4 For PlayOn Home users, the video will directly saved on your computer. For PlayOn Cloud users, you need to manually download the video in the "Recording" to save it on your device or turn on the automatic download function.
---
FAQ
1. Can I screen record Disney Plus?
Disney Plus takes strict measures to protect its content against piracy and copying. Therefore, recording Disney Plus is not permitted and is illegal. Disney Plus content is copyrighted and encrypted through digital rights management, so that's why some users may find that they can't find the downloaded video file on their mobile device - it's because Disney Plus stores the video in an encrypted format on your device.
2. Can Disney Plus detect when I'm recording?
Generally, Disney Plus can detect that you are doing screen recording. This explains why users frequently complain about seeing black or blank screens when using OBS, Xbox Game Bar, or QuickTime Player to screen record Disney Plus. However, there are still practical ways to accomplish this, such as the aforementioned use of third-party software like DispCam or PlayOn.
---
Conclusion: What is the Best Tool for Screen Recording Disney+?
Each of these five programs has its own advantages and disadvantages. In terms of overall features, compatibility, DispCam is definitely the best choice. While there are free tools above for recording Disney Plus videos, most of the time you'll likely encounter a recording failure. DispCam does well in terms of value for money, and it also offers a free trial, allowing you to download the first five minutes of the video. It's worth a shot! Download it and have a try.
---