10 Best Comedy Movies on Disney Plus
Want to laugh out loud? Watch Disney Plus.
Comedy movies tend to be the most well-liked of the many different film themes. It's a subject matter that anyone can embrace, and people like to get that pleasure by watching comedy movies. There is a ton of content on Disney+ that will satisfy any itch. We sort out the 10 best comedy movies to watch on Disney Plus. Let's read on and learn how to download them for offline viewing.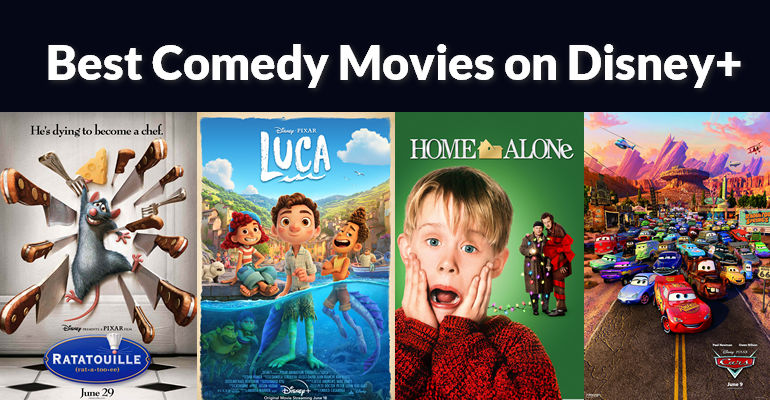 ---
Part 1: 10 Best Comedy Movies on Disney Plus
1. The Emperor's New Groove (2000)
The busy and conceited Emperor Kuzco has big plans for the construction of a brand-new water park just for him. But doing so would mean razing one of his kingdom's villages. The former administrator, Yzma, is currently devising a plot to usurp the throne and exact revenge. However, Kuzco turns into a llama during the assassination of Yzma and her follower Kronk. Now Kuzco finds himself on Pacha's property, a menial llama herder whose house serves as the water park's starting point. After learning the llama's true identity, Pacha offers to help the Emperor solve his issue and reclaim his throne—but only if he agrees to relocate his water park.
---
2. Home Alone (1990)
The McCallister family is getting ready to travel to Paris, France, around Christmas time. Kevin, the family's youngest member, was sent to his room, which is on the third floor of his home, after getting into a fight with Buzz, his older brother. Then, the following morning, the rest of the family completely forgot about Kevin, who now has the house to himself while they were in a rush to make it to the airport on time. Being home alone was fun for Kevin. Kevin then finds that two burglars named Harry and Marv are planning to rob him on Christmas Eve. Kevin takes quick action to stop the burglars and bring them to justice by wiring his home with makeshift booby traps.
---
3. Enchanted (2007)
The evil Queen Narissa banishes the lovely Princess Giselle from her enchanted, musically animated land, and she ends up in the grimy reality of contemporary Manhattan. For the aspiring princess Giselle, life is a fairy tale. Giselle is now badly lost in a chaotic world after being startled by this strange new environment. Although a prince from her world comes to save her, Giselle starts to fall in love with the cynical, no-nonsense divorce lawyer who has helped her. She must wonder: Can a romance depicted in a fairy tale survive in reality?
---
4. The Parent Trap (1961)
The identical twins Susan and Sharon were split up at birth. Until a simple twist of fate places them at the same summer camp, neither twin is aware of the existence of the other. One of the girls has been living with their mother, while the other has been living with their father. After camp, they plot to get their parents back together and swap roles before starting to implement their strategy.
---
5. Who Framed Roger Rabbit (1988)
Eddie Valiant, a down-on-his-luck detective, is hired to find evidence that Marvin Acme, the owner of Toontown and the head of a gag factory, is having an affair with Jessica Rabbit, the femme fatale and wife of Maroon Cartoon star Roger Rabbit. But when Acme is found murdered, all evidence, however, points to Roger as the murderer of Acme, and the evil, power-hungry Judge Doom is determined to hold Roger accountable. The plot thickens as Eddie unearths scandal after scandal, realizing that Toontown's very survival is at risk, and Roger begs the Toon-hating Valiant to find the real baddoer.
---
6. Cars (2006)
The plot centers on Lightning McQueen (Wilson), a hotshot rookie race car who gets stuck in the rundown town of Radiator Springs while en route to the biggest race of his life. He gradually makes friends with the eccentric citizens of the town, such as Sally, Doc Hudson, and Mater. He learns a few things about friendship, family, and the things in life that are actually worth waiting for when it's time for him to leave, and the championship is no longer his top priority.
---
7. Ratatouille (2007)
Remy, a resident of Paris, has a very sophisticated palate and appreciates good food. He aspires to become a chef so that he can indulge in his passion for creating and consuming culinary masterpieces. Remy's being a rat is the only issue. Despite the obvious risks of being an unexpected and unwelcome visitor in the kitchen of a fine French restaurant, Remy's passion for cooking soon starts a hilarious and exciting race that turns the culinary world of Paris upside down.
---
8. Finding Nemo (2003)
Nemo, the son of Marlin, who lives in the Great Barrier Reef, is lost after venturing into the open ocean despite his father's repeated warnings about many of the ocean's dangers. Nemo is kidnapped by a boat, caught in a net, and taken to a Sydney dentist's office. Marlin encounters Dory, a blue tang fish with short-term memory loss, while he is on his quest to find Nemo. In order to rescue Nemo from the dentist's office, which is located by Sydney Harbour, the friends must travel a great distance and come into contact with numerous dangerous sea creatures, including sharks, anglerfish, and jellyfish. Nemo and the other sea creatures in the dentist's fish tank plan a way to get back to the sea so they can live their lives free once more while the two are searching the ocean.
---
9. Luca (2021)
The movie "Luca" is a coming-of-age tale about a young boy named Luca Paguro who has the capacity to assume human form while on land. It is set in a lovely seaside town on the Italian Riviera. He has a summer to remember, filled with endless scooter rides, pasta, and gelato. Together with Giulia Marcovaldo and Alberto Scorfano, his new best friend, Luca goes on these adventures. They have a summer adventure that changes their lives as they explore Portorosso.
---
10. Free Guy (2021)
Guy considers himself to be nothing more than a bank teller, a bit of a nobody in a strangely violent and chaotic city who starts each day with a clean slate. In reality, he's a non-playable character in the hugely well-liked open-world video game Free City. At first, Guy is shocked to learn he is not only a videogame character, but a background character at that. With the aid of Milly's kickass in-game avatar Molotov Girl, Guy decides to change things up and become not just a good guy, but a great Guy.
---
Part 2: How to Download Disney Plus Comedy Movies for Offline Viewing?
Downloading videos to watch offline is the best choice when you go on a travel without the internet or the internet is poor, which can ensure a seamless viewing experience. Disney Plus does offer a download function for its Disney Plus Premium subscribers.
Disney Plus provides users with two subscription plans: Disney+ Basic and Disney+ Premium. The former costs $7.99 per month, which provides access to all Disney+ content while retaining some of the original essential features. It can, for example, stream high-resolution videos in Full HD, 4K Ultra HD, HDR10, and Expanded Aspect Ratio with IMAX Enhanced. The latter, costing $10.99 a month, has the added feature of allowing its users to download videos for offline viewing. Another important difference is the presence or absence of advertising.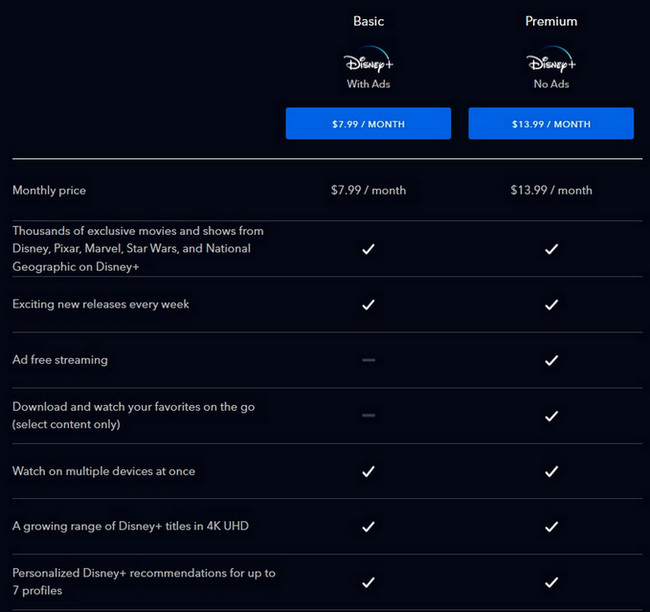 Obviously, if you want to download videos for offline viewing, subscribing to the Disney+ Premium is required. What if you want to watch content offline with a Disney+ Basic Plan? Luckily, below we would introduce two methods to guide you on how to download Disney Plus comedy movies to watch offline. One works for Disney+ Premium users, and the other works for both of them.
Download Videos by Using the Disney Plus App
Disney Plus enables its Premium users to download videos and movies through the Disney Plus app on mobile devices.
Step 1 Launch the Disney Plus app on your mobile device after installing it. Then, log in to your Disney Plus account with the information and choose the profile.
Step 2 Find the video and movie that you want to download.
Step 3 Tap the "Download Season" button to download an entire season of a TV show. Simply click the "Download" icon to the far right of the episode title to download a single episode.
The videos downloaded by this method can only be accessed through the Disney Plus app on the mobile device, this prohibits you from moving and watching them on other devices, as they are downloaded in the encrypted format. What's worse is that even if you've downloaded the videos, you won't be able to access them all after your subscription ends. That's why we introduce using a third-party video downloader - DispCam. Not only can it allow you to move the downloads to other devices, but also help you save videos permanently on your device.
Recommend: DispCam – Disney Plus Video Downloader
DispCam is a professional and reliable video downloader, which gives you the freedom to download any videos and movies from Disney Plus, with no matter what subscription you own. It runs on Windows 11/10/8/8.1/7 and macOS 10.15 - macOS 13, working with most computers on the market. It is easy to use and has a concise interface, which only needs several steps to easily download your desired shows to your computer without installing the Disney Plus app. Apart from that, thanks to its smart engine, you are allowed to find the video by using the name or keyword of the video or copying the link of the video.
DispCam is capable of downloading HD videos in widely used MP4 or MKV format so that you can move them to watch on any device you want. It is also available to save them forever even if your Disney Plus subscription expires. All videos downloaded by DispCam are by default without ads, freeing you from being interrupted by the ads. In addition, DispCam offers two video codecs, H.264 and H.264, to let you save videos in higher quality and at lower data rates.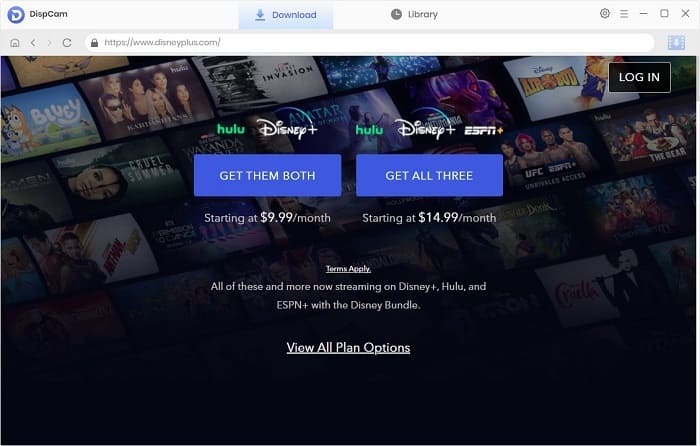 If you want to learn more about DispCam, you are welcome to read the following articles. We have listed some topics that may be of interest to you.
Conclusion
Both methods above can help you download Disney Plus videos for offline viewing. But we recommend you use DispCam, as a professional video downloader, its function is far beyond your imagination. It is designed for helping easily download Disney Plus videos and movies to watch offline without limits and bypass the restrictions of Disney+. You can find one or two movies you like based on our recommendations above. And gather up your snacks, find a comfortable couch, and get ready to laugh!
Note: The free trial version of DispCam allows you to download the first five minutes of each video. To download the full video, you may need to subscribe to DispCam to unlock the limitation.
---