Netflix vs Disney Plus: Which is Right for You?
Streaming giant Netflix launched its ad-supported subscription tier in November last year, more than a month ahead of its rival Disney Plus, who launched its own ad-supported version, Disney+ Basic, in December. Although the two giants both launched advertising campaigns in the fourth quarter, their strategies are quite different! This article will go into detail about Netflix and Disney Plus and some of the issues you'll want to know about.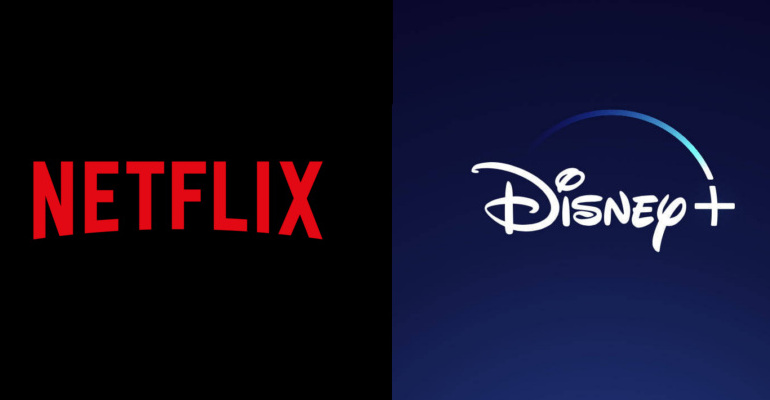 1. What is Netflix & Disney Plus?
Netflix and Disney Plus are both paid video streaming services that both have a lot going for them. One of the first streaming entertainment services was Netflix, which debuted its service back in 2007. Disney Plus, launched in 2019, is owned and operated by the Disney Entertainment division of The Walt Disney Company. Both streaming services have a sizable user base and are well-liked by both adults and children in so many regions and countries.
---
2. Netflix vs Disney Plus: Subscription Plans and Price
Netflix offers a variety of plan options for its members to find their suitable subscriptions: Standard with ads (formerly called Basic with ads), Standard, and Premium. And there are two subscription tiers offered by Disney Plus, Basic and Premium. Here are the benefits of each plan and their respective prices. Please note that Netflix does not provide an annual subscription plan.
Netflix Subscription Plan
>> Netflix Standard with ads
Price: $6.99 /month

Standard with ads, is the cheapest plans with the most limitations. Only 2 devices may be streamed by viewers at once, and streaming is limited to 1080p. There are ads before and in the middle of movies and TV shows that cannot be skipped over or fast-forward through. Ads can last up to 30 seconds, with an average of four minutes of ads per hour. Some TV shows and movies are not available and you only have access to about 90%-95% of the Netflix library.
>> Netflix Standard
Price: $15.49 /month

Standard tier is a good choice if you share your Netflix account with friends and family, which enables you to use the account from 2 devices at the same time. You can also stream all Netflix videos and shows in 1080p as well as Dolby Digital 5.1. It is also available to download your desired shows for offline viewing and it supports downloading on 2 devices at the same time.
>> Netflix Premium
Price: $22.99 /month

Currently, the Premium tier is the most expensive and covers the most features. In addition to 1080p, you can watch videos in Ultra HD that feature HDR10 or Dolby Vision, provided that your TV supports playing 4K movies. There can now be four devices online at once, up from the previous limit of two. Besides, it supports downloading on 6 supported devices at a time. Premium subscribers can enjoy spatial audio from Netflix, which enhances sound without the need for surround sound speakers or home theater equipment.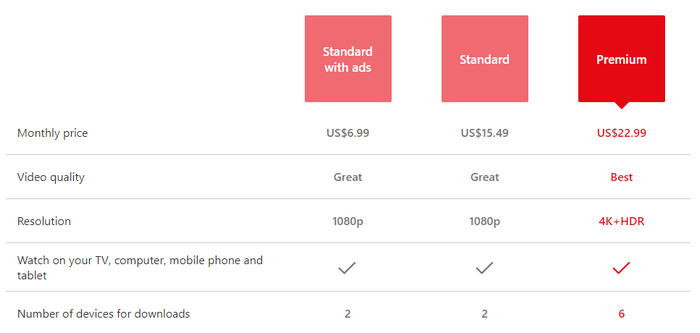 Disney+ Subscription Plan
>> Disney Plus Basic
Price: $7.99 /month

If you're on a tight budget, you can choose Disney Plus Basic which is introduced in November, 2022 at a lower price. (It is currently only available in some countries.) Those who subscribe to this plan are required to view approximately four minutes of advertising per hour. You can pause the ads, but you cannot fast forward. (Notably, when a video is viewed through a Kids Profile, no advertisements will be displayed.)
One of the benefits of this plan is that you can access the full library of Disney Plus. It also allows you to stream content on up to 4 devices simultaneously like the Premium plan. What's more, it supports 4K Ultra HD, Dolby Vision, Full HD, HDR10, and Expanded Aspect Ratio with IMAX Enhanced.
>> Disney Plus Premium
Price: $13.99 / month; $139.99/year

Another important difference with Premium plans is the ability to download, which enables you to download content and watch it later. There are also some exclusive features that Disney Plus Basic lacks, like the access to SharePlay*, and Dolby Atmos.
*SharePlay: With SharePlay, you can stream Disney Plus content with family or friends or on FaceTime as well as interacting with them in real-time through iPhone, iPad, and Apple TV with the latest system update.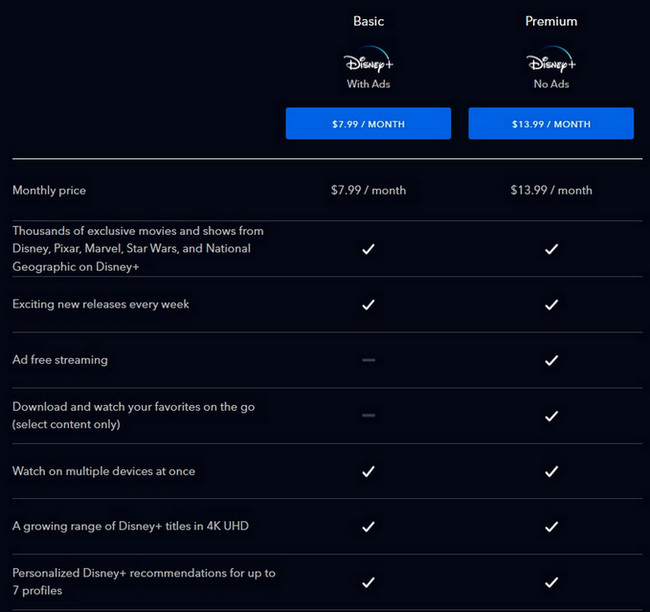 ---
3. Netflix vs Disney Plus: Content
The two streaming services arguably cater to different audiences, and both offer their viewers a ton of original content. Netflix has more than 6,000 TV shows and movies streaming, while Disney+ has more than 2,000 shows and movies, covering all the brands under Disney, such as Disney, Pixar, Marvel, National Geographic, Star, etc. People can find almost any Marvel movie they want on Disney+, and they can enjoy the multiple Disney Plus exclusive Marvel series released by them. Disney Plus is also a favorite with families and kids, as Disney Plus features hundreds of family-friendly TV shows and movies, including Disney's entire catalog of classic animated features.
One of Netflix's biggest draws to subscribers is its vast library of original content. Netflix has invested heavily in original production and specialized in true crime and reality shows. It's easy to find a list of new Netflix original releases every month and every year. Whether it's movies, reality shows or much-hyped upcoming hits, Netflix has an endless supply of original content for subscribers to watch each week. Netflix tends to release all episodes from original TV series at once while Disney+ releases episodes of TV shows on a weekly basis, which means you'll need to subscribe for multiple months if you want to watch each episode as it premieres.
4. How to Download Netflix Videos to Watch Offline?
To be eligible for download, you must have a device that enables downloading. The below supported devices are as followed: iPad and iPhone, Android phone and tablet, Amazon Fire tablet, Windows 10 & Windows 11 computer, and Google Chromebook.
Step 1 Download and install the latest Netflix app on your device. Log in to your Netflix account with personal information.
Step 2 Before searching for the videos that you want to download, you can set up the video quality (Standard and Higher) first. Find the 3-dot "More" icon or the "Profile" icon, and then locate "App settings". Choose "Video Quality" or "Download Video Quality" under the Downloads heading and select your desired video quality.
Step 3 Although not all content on Netflix may be downloaded, Netflix has put the available content in a section suitably titled "Available for Download", "See What You Can Download", "Find Something to Download", or "Find More to Download", depending on your device. The "Download" icon, which is a a downward arrow will appear if this title is available to be downloaded.
Step 4 Select the title and start downloading. You can find the downloaded videos and movies through Meun > My downloads. For those who using Android or Amazon Fire device, they can change the download location to an SD card.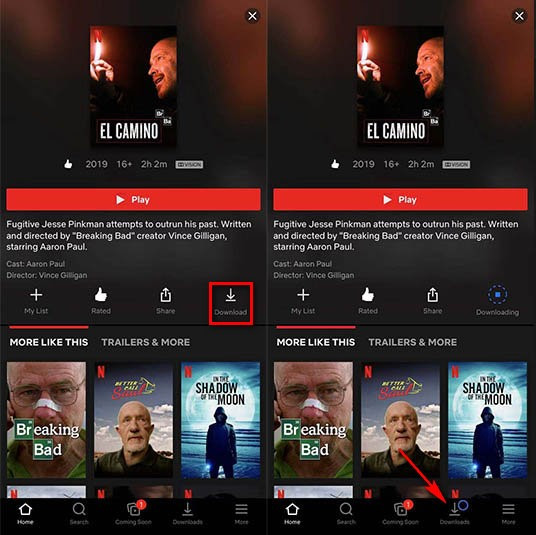 While it's easy to download videos through the Netflix app, there are some limitations. All downloaded videos have a viewing deadline, and some expire after 48 hours once they start playing. And these downloaded videos are not permanently stored on your device. For those who using Android or Amazon Fire device, they can change the download location to an SD card. However, for users with other devices, they may be plagued by a lack of memory.
Therefore, if you want to download Netflix videos without limits, we highly recommend using a third-party video downloader - Flixicam. It is a professional tool that can assist you in downloading Netflix videos and movies in MP4 or MKV format on your computer (Windows or Mac), thus achieving the goal of transferring videos to others devices easily.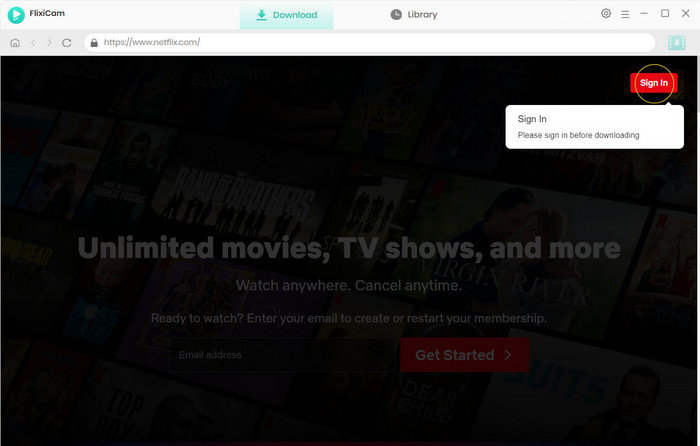 ---
5. How to Download Disney Plus Videos to Watch Offline?
Users who have Disney Plus Premium accounts get access to some titles that can be downloaded for offline viewing when there is no internet access. Please be aware that not all shows are available for download on Disney+. Additionally, the download feature is only compatible with the following mobile devices: iPhones and iPads, Android phones and tablets, and Amazon Fire tablets, and Windows 10 & Windows 11 tablets and computers
Step 1 Install and launch the Disney Plus app on your device, and log into your account.
Step 2 Search and locate the video that you want to download. Click on the "Download" icon next to "Season" to download a whole season. Tap the "Download" icon to the right of the episode title if you only want to download a particular episode.
Step 3 Find the downloaded titles in "Download" icon in the bottom menu and click the icon to start playing them. To begin watching right away, tap the play button on the show or movie's thumbnail. You may also tap the icon to the right to bring up a menu where you can choose to play the content or cancel the download.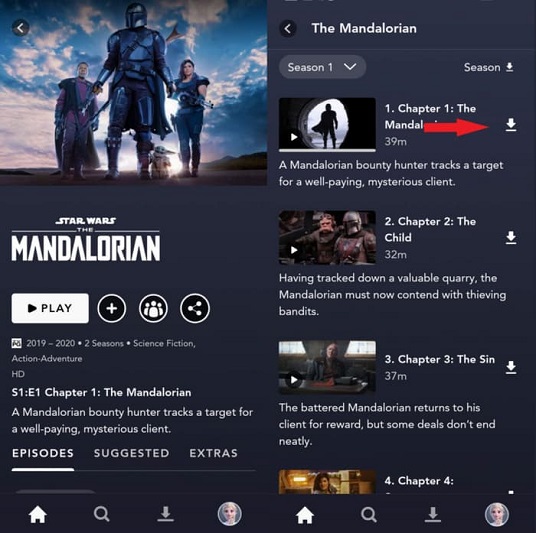 Disney Plus also has restrictions on its download. The downloads can not be saved on your device forever, and once your subscription ends, you are unable to get access to your downloads. All downloaded content can only be viewed through the app on the device you are using to download the videos. It is impossible to find the location of the video files on your device as well.
If you want to watch Disney Plus on some players, like VLC media player, DispCam is a good choice that can save the videos on your computer permanently unless you delete them manually. It can download 720p videos and movies and keep 5.1 surround audio (if the video provides it) and AAC 2.0 audio. DispCam offers two video codecs to help you solve the problem of wanting to download HD video but running out of memory.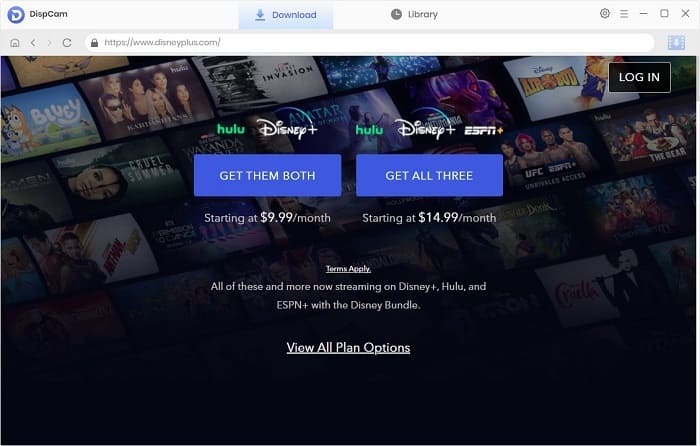 ---
Final Words:
The debate over whether Netflix or Disney Plus is best is still a hot topic. In terms of price, Disney+ is even better. Because while it is cheaper, it also offers more features compared to Netflix. In terms of content, Netflix provides a richer library including a variety of genres, children's content, adult content, dark content, comedy, and adult romance to meet your requirements. The final choice depends on the price the audience likes and what they want to watch in the end. You can use the information above to choose between Disney+ and Netflix options.