Two Ways to Watch Zootopia+ Offline
Zootopia+ (also known as Zootropolis+ or Zoomania+) debuted on Disney Plus on November 9, 2022. It is adapted from the 2016 Disney film, Zootopia. The series is divided into six episodes, each episode of the story focuses on supporting figures from the original movies, such as Mr. and Mrs. Hopps and Flash. Even though each episode is only a few minutes long, every story is incredibly entertaining, worth watching, and demonstrates how wonderful and vast the "Zootopia" is.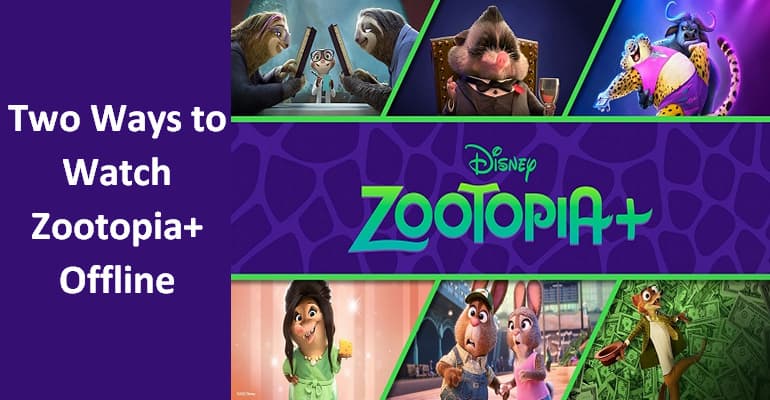 To watch Zootopia+ offline, you must first be a subscriber of Disney Plus, which allows you to stream content online as well as download your favourite videos and movies to watch offline without an internet connection. Please read on if you want to find out how to watch Zootopia+ offline. The following will present the two ways separately; one is using the Disney Plus app, and the other is using DispCam.
Part 1: Watch Zootopia+ Offline via the Disney Plus App
Using the Disney Plus app is a convenient method to watch Disney Plus videos offline. All you have to do is to install the Disney+ app on any supported devices.
Step 1 Install the Disney+ app and launch it. Then, sign in to your existing account or create a new one.
Step 2 Navigate to "Zootopia+" and select the videos you want to download. To download an entire season, click on the "Download" icon next to the "Season". If you only want to download a single episode, tap the "Download" icon to the right of that episode title.
Step 3 Click on the "Download" icon in the bottom menu, where displays all your downloads. Tap the downloaded "Zootopia+" to start playing offline.
In contrast to other streaming services, Disney Plus enables you to download all of its content to stream offline. It is important to note, however, that the download capability is only functional on mobile devices. The amount of content that can be downloaded is only limited by the amount of available storage space on your device. What's more, to prevent downloads from expiring, be sure to log in to the Disney Plus account from one of your devices at least once every 30 days. All of your downloads will remain in your Disney+ account as long as you remain a subscriber.
The incapability to watch Disney+ videos on other devices, full phone memory space, or others results in it being impossible to watch videos offline at will. This article offers another way to assist you in watching Zootopia+ anywhere regardless of the above limitations.
Part 2: Watch Zootopia+ Offline on Any Devices by Using DispCam
A professional tool that can help you download movies and TV shows from Disney+, and enjoy the content offline at any time.

Learn more about DispCam >>
DispCam is currently one of the best-performing Disney Plus video downloaders in the market which enjoys some wonderful features. It is capable of directly downloading videos and movies from Disney Plus without an app owing to its smart search engine. It can free you from the restriction of only being able to download videos on mobile devices and watch them through the Disney+ app. With DispCam, you can not only download videos in MP4 format but also move them to whatever device as needed.
The purpose of watching Zootopia+ offline on any device can be easily achieved with the help of DispCam. Following are the detailed instructions on how to watch Zootopia+ offline by using DispCam.
How to Watch Zootopia+ Offline with DispCam?
Step 1Run DispCam and Log in Disney+ Account
Run DispCam on your PC after downloading it from the website. In the search bar, just enter "Zootopia" or some words. Later, a login-in window will appear, prompting you to log into the Disney+ account.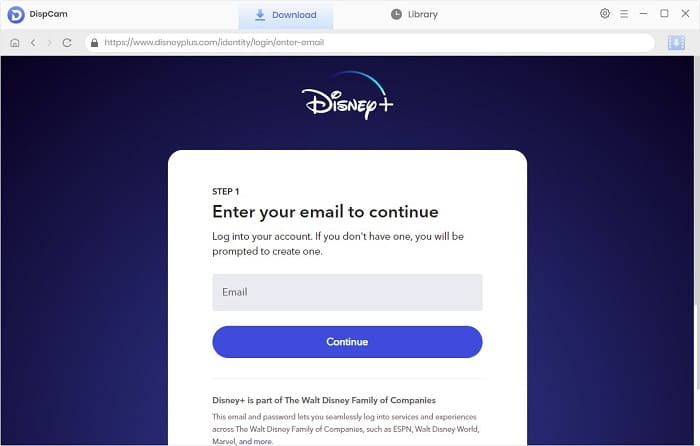 Step 2 Search for Zootopia+
When you log in successfully, DispCam will do a quick search for you if you enter "Zootopia+" in the first step, which includes related videos. If typing some other words, here you need to enter the name or copy its video link from the Disney+ website.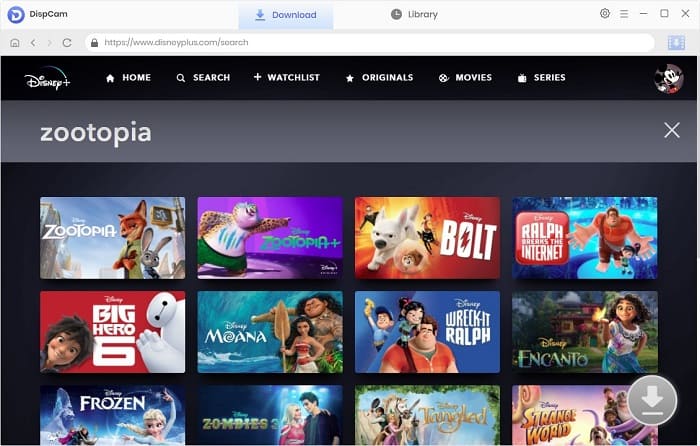 Step 3 Customize the Output Settings
Tap the "Settings" icon where you can set the video format, video quality, and so forth. DispCam enables you to preserve audio and subtitles in various languages, providing the option to save 5.1 surround audio tracks (if available) and 3 types of subtitles files.
In addition, if you want videos with higher quality but less storage space, H.265 codecs is available for you. Compared with H.264 codecs, it addresses the issue of limited storage space.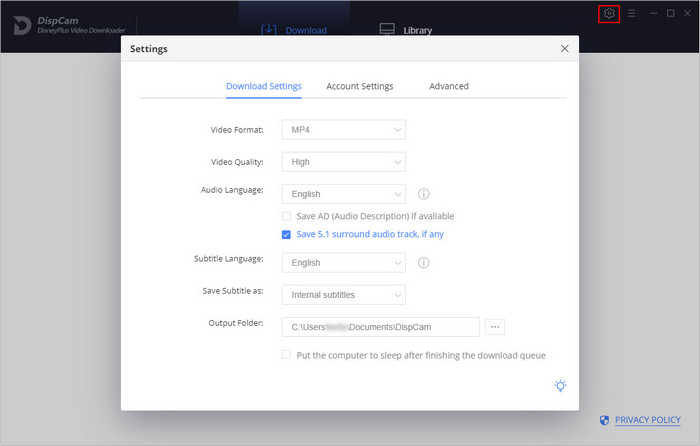 Step 4 Select Specific Video Quality, Audio Track, and Subtitle
When you click the "Download" icon

, a list of episodes is displayed, and you can choose which one to download. It offers a batch download function, benefiting you to download the entire season with a single click.
There is an "Advanced Download" icon in the bottom left corner of the window, which features more specific settings for video quality, audio track, and subtitle. If you are trying to download a movie, this button

is located next to the "Download" icon

.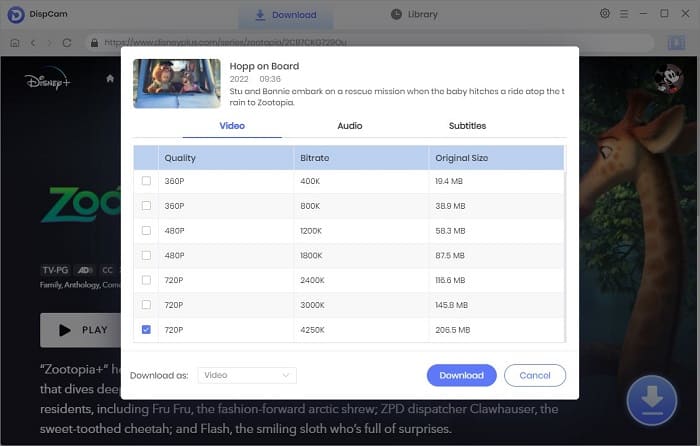 Step 5 Download Zootopia+
Start downloading Zootopia+ by clicking the "Download" button. Once completed, tap "Library" to check the downloaded video. Directly click on the video thumbnail, now you can watch Zootopia+ offline on your computer or any device.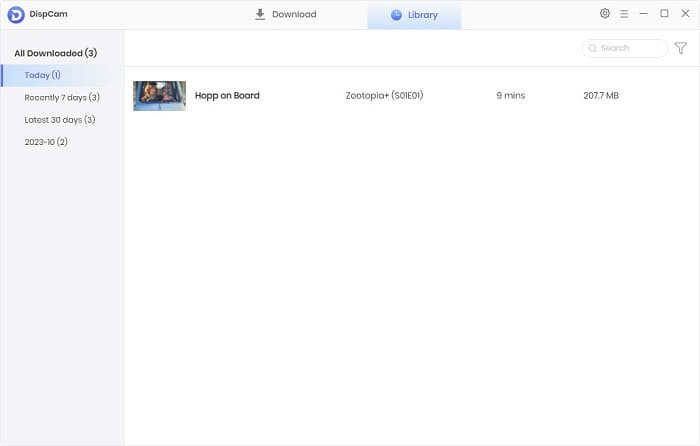 Conclusion
It appears to be that watching Zootopia+ offline via Disney Plus app is the simplest way, however, there are many restrictions at the same time. If you want to troubleshoot these problems, DispCam comes into play. It is a practical tool that is committed to downloading high-resolution videos and movies from Disney+ for offline viewing without limits.
Note: The free trial version of DispCam allows you to download the first five minutes of each video. To download the full video, you may need to subscribe to DispCam to unlock the limitation.
---